Living a low/zero waste life shouldn't be all about talk but you should take some actions and one of the ways to get inspiration is to follow others who are on the same path as you. The main concept behind living a zero-waste lifestyle is to have a lifestyle where you don't have to use recycling bins or trash cans, which happens to be the best way to reduce waste.
Zero-wasting living isn't such an easy feat due to our cultural reliance on convenience.
If you are working to reduce your carbon footprint then you should strive for the zero waste pattern even though this is not an easy goal but working towards reducing the more than 5.25 trillion tons of plastic in the ocean can go a really long way.
It's actually going to take lots of effort and thoughtfulness to be plastic-free and this is because most of what we consume comes in plastic or some sort of disposable container. However, not to worry, following zero waste bloggers is a great way to keep you motivated and help you find new ideas.
List of The Top Zero Waste Blogs to Learn From Now
Here are lists of our favorite bloggers who have been doing it for years and can act as your guide to the zero-waste lifestyle.
1. Zero Waste Chef

This site is really awesome and you ought to really join them on their beautiful journey. Zero waste chef is a blog and there is also a cookbook written by a San Francisco-based editor named Anne Marie who loves to cook, hence the book and blog focus on food management. She has lots of great ideas on how you can easily replace your favorite packaged foods and go for better meal planning, fermentation, and reduce food waste.
2. Treading My Own Path
Zero waste living also means adopting a minimalist and simple lifestyle. Lindsay Miles breaks down the best approach to living a zero-waste lifestyle in her blog. Following her can help you adopt clean eating, waste and plastic-free living, and ethical consumption.
3. Litterless
The litterless blog is owned by Celia Ristow of Chicago and she strives to make her life simple and beautiful through waste living. You are not only going to be guided on how to live an enjoyable zero waste lifestyle it also includes guides on where to shop.
4. Zero Waste Guy
Jonathan Levy runs the Zero waste guy blog and he is a keynote speaker and business consultant. He helps companies transition to less wasteful practice. His own blog is based on maintaining a wasteful lifestyle, which includes interesting forms of indirect waste, household appliances, and cooking.
5. Zero Waste Europe
Zero Waste Europe blog proposes to educate society on ways to eliminate all superfluous waste. Their website is sure to provide you with lots of information on everything that is produced that can be reused, composted, repaired, or recycled back into the system.
6. Trash Is For Tossers
The founder of the blog Trash Is For Tossers is Lauren Singer who lives in New York and her blog is filled with very useful information to get you prepared for the zero waste journey. Her site is regularly updated and her collection of how-to youtube videos and TED talks is worth tunning to.
7. Xtreme Zero Waste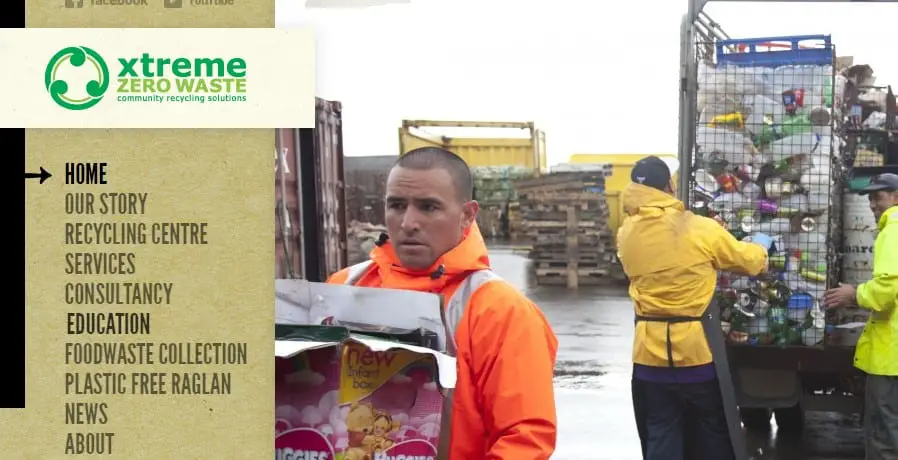 Xtreme Zero waste is another interesting blog you should definitely check out. It is a community enterprise that uses business as a tool to meet the needs of the community. This is a blog you can follow to be informed about everything concerning the zero-waste lifestyle.
8. Going Zero Waste
Going Zero Waste helps you break down eco-friendly living into simple step-by-steps that you can easily adopt. Kathryn Kellog is the founder and she started the Going Zero Waste blog after a health care fright in college. Her blog is all about keeping things simple and encouraging the health and wellness of the planet and oneself.
9. Live Conscious
Live Conscious is a Berlin Based blog and you are going to find it worth your time as it covers all aspect of conscious living that we all need an insight into.
10. Zero Waste Home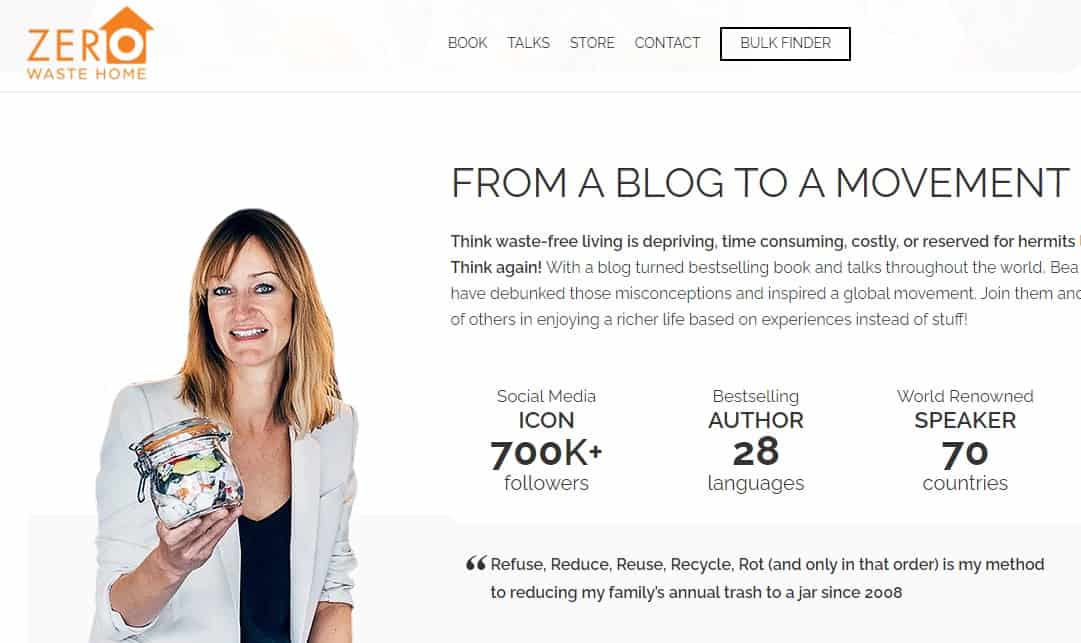 Zero waste home is another blog you should be following if you want to adopt the zero waste lifestyle without finding it intimidating. Bea Johnson is the founder and she is known to be the mother of zero waste having turned her at-home lifestyle into a global movement in 2008. Her Zero Waste Home book which is not a bestselling book is also filled with information that can make zero waste living fun and enjoyable.
11. The Renz Nest
The Renz Nest is a blog based in the United Kingdom and founded by Jessica Renz in 2017. Although this blog sounds new, she is on an impressive journey to eliminating all disposable plastics. It is an excellent place for you to start and get aimed with important details.
12. Wasteland Rebel
Wasteland Rebel is more an online space that is created by Shia Shu and husband Hanno and it's all about zero waste living. The site is aimed at making the zero waste lifestyle easy and accessible to everyone. Lots of information from going shampoo-free with the NoPoo method to skincare routines, there is so much to be benefited from following her.
13. Reusable Nation
Reusable Nation might be the ideal blog for you if you are finding the zero waste life a challenge. They have the "8 weeks to waste-free challenge" to help you ease into the zero waste-free lifestyles. It is a really vibrant blog and they have all you need to figure out the zero waste journey.
14. Paris To Go
Paris To Go is a really beautiful website you will enjoy following. She has everything figured for you to kickstart your zero waste journey. Ariana Schwarz lives with her husband and two cats and enjoys writing about everything from travel to beauty and from fashion to gluten-free living.
15. Green Gene Activate
You can learn to live zero waste free with less hassle following the Green Gene Activate blog.
16. Brightly.eco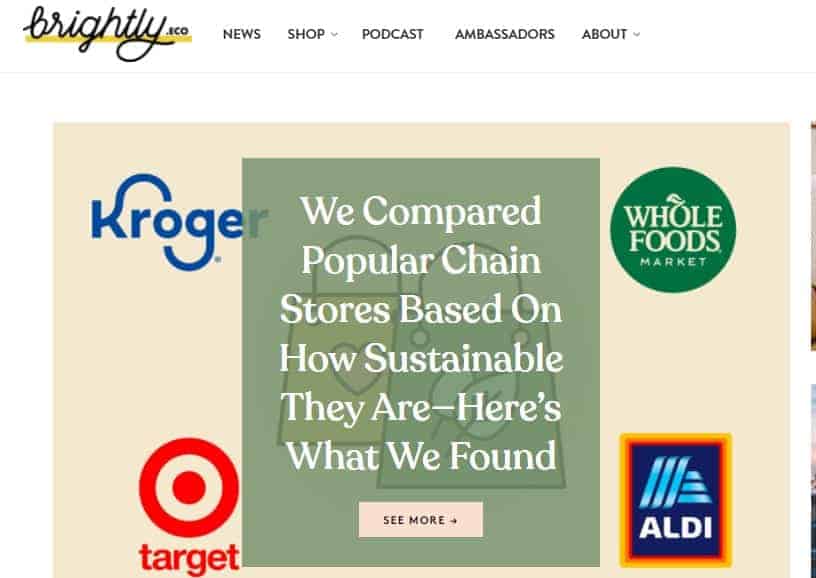 Brightly.eco is another pretty zero waste blog you ought to be following. This website provides you with lists of zero waste-friendly stores and also not to forget, you can also get recipes for everything, from cooking to laundry detergent and toothpaste. There's also a podcast you can listen to for tons of ideas about sustainability and how you can play your part in helping to save the earth.
17. Eco Thrifty Living
Eco Thrifty Living is quite an impressive blog you should definitely follow. It is founded by Zo Morrison and she has information on how zero living can help save money and being eco-friendly.
18. Moral Fibres
Wendy is the founder of Moral Fibres and we find her blog really interesting. She covers all categories of life, health and beauty, families, food and drink and so much more. Her blog is an all-time favorite for many families on the zero waste journey.
19. Eco-Boost
For those in London, Kate Arnell's blog, Eco-Boost is the one you want to follow to help you live more consciously. She keeps zero waste living fun and you are going to find lots of useful information about zero waste living on her page.
20. Wild Minimalist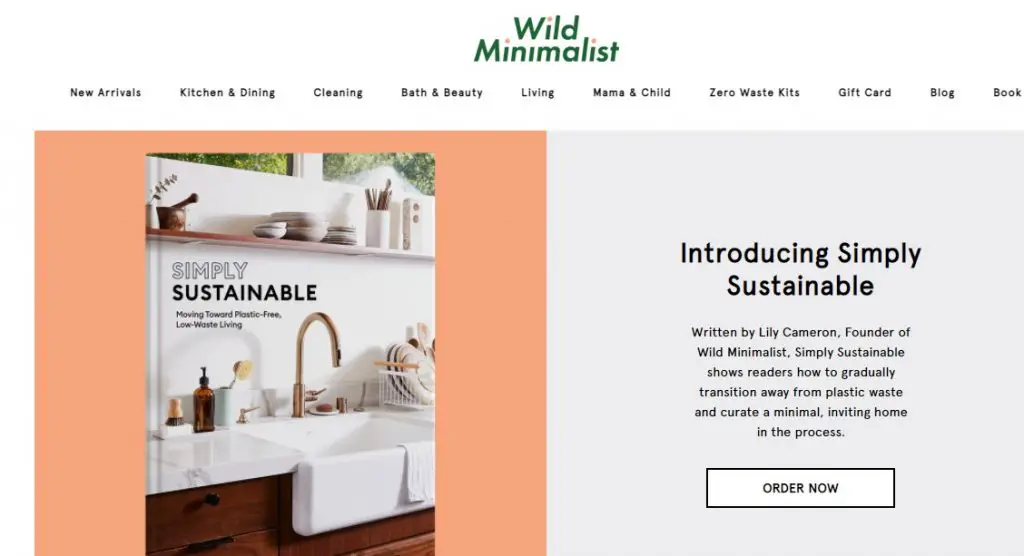 Unlike other blogs, wild minimalist first started as a store and it's one of the best zero waste online stores. The blog has only been active since 2017 but worth following. It is created by California couple Max and Lily. Their store has you covered on all things that make the zero waste journey easy.
21. Conscious By Chloe
Conscious by Chloe is a blog started by Chloe Lepeltier in the year 2015 and like you already guessed, it contains lots of articles on everything from productivity tips to minimalist products. She also has a way of personable spin on sustainability so you are to find her really helpful.
22. The Picture Of Mary
Another blog that might inspire you to get started on the zero waste lifestyle is The Picture of Mary which is created by Gittemary Johansen who hails from Denmark. When she is not blogging or vlogging, she is known to host lectures and workshops across Europe.
23. Zero Waste Nerd
Meagan is the founder of Zero Waste Nerd and her blog is not the only thing to watch out for but her book  An (Almost) Zero Waste Life – Learning How to Embrace Less to Live More. She is always found on the list of best zero waste bloggers.
24. Zero Waste Nest
Zero Waste Nest is on the journey to help you reduce the amount of waste you produce in your day-to-day living. Founder Morgan Beernaert is a London-based zero waste blogger who is passionate about reducing waste little by little through a slow and steady mindset.
25. Greenify Me
Just like the rest of the bloggers mentioned above, Greenify Me is focused on making zero waste living an easy one. Ariana Palmieri is one dedicated zero waste blogger and you can be sure to find all sorts of recipes and lesser cover topics like zero waste glasses and contact lenses.
26. Unassaggio
If you are new on the journey to a zero-waste lifestyle then we are sure, you are going to find things no-fluff advice on our site to make this less intimidating and enjoyable for you. We're determined to make sure we play our part in the reduction of wastes, the effect, and impacts on climate change.
As more and more people are recognizing that zero waste is the future, Unassaggio will provide you with lots of informative articles to help kickstart the zero waste journey.
Wrapping On Best Zero Waste Bloggers
A zero lifestyle means creating no trash at all and while this might sound impossible, it is not and as earlier stated, bloggers can inspire you and give you an idea on how to start. Adopting a zero-waste lifestyle is not just time-consuming but also requires lots of attention. But the idea of conserving resources and minimizing pollution is a more interesting and enjoyable life.