Looking for a list of cereals high in iron that tastes just as good, if not better, and stupendously nourishes the body? We've created this guide for you.
Ensuring that what you are consuming has the right nutrients for healthy growth is quite important.
There are specific, vital nutrients required to be included in the diet we consume every day, one of such nutrients is iron. Iron enhances the development of healthy skin, bones, and teeth and also provides oxygen to body cells, which is required for energy production.
In summary, Iron is vital to the formation of red blood cells and blood circulation. According to the FDA, there is an amount of iron that the body requires in a day; that is, 8 to 18mg daily. Failure to provide this, over time, can result in a lot of medical issues i.e. Iron deficiency, anemia, etc.
Over time, it has become evident that a lot of people still consume cereal. One way to ensure we are taking a balanced meal/diet is to ensure the meal we consume has the right nutrients. What a lot of people find challenging is knowing what nutrients each cereal contains.
There are tons of cereals that are high in iron or have a reasonable amount that you can consume. This article is set to provide you with those iron-fortified cereals to eat often for your daily dose of Fe.
What Cereals Are Rich In Iron?
| Cereal Brand Name | mg/100grams |
| --- | --- |
| Kellogg's Complete Oat Bran Flakes | 63mg |
| Cheerios Breakfast Cereal | 12.6mg |
| Honey Brunches Of Oats | 16.2mg |
| Ralston Enriched Bran Flakes Cereals | 28.42mg |
| Quaker Instant Oatmeal | 4.64mg |
| Nature's Path Organic Flax Plus Multibran Flakes | 5.89mg |
| Honey Nut Cheerios | 16.1mg |
| Quaker Chewy Granola Bars | 10mg |
| Kashi GOLEAN Cereal | 5.0mg |
| Welch Fruit Snacks | |
| Poop Like A Champion Healthy Choice Ultra-High Fiber Cereal | |
1. Kellogg's Complete Oat Bran Flakes (63mg/100g)
Since the complete oat bran flakes appeared, it has not stopped giving all we need in good oatmeal. Produced by the Kellogg's company, whose founder is will Keith Kellogg, a man credited for inventing cornflakes, together with his brother John Harvey Kellogg.
This cereal is high in many nutrients, not just iron i.e. Vitamin C, iron, Vitamin B6, Magnesium, Vitamin D, Selenium, Potassium, etc. It has a high-calorie density, including saturated fat, sodium, and sugar. It is a good source of fiber, carbs, and protein. The iron content of this cereal is 63(mg).
2. Honey Brunches Of Oats (16.2mg/100g)
Looking for a delicious, high in iron, cholesterol-free cereal? You need not search anymore. The honey bunches of oats, which are made from both whole and refined grains, are full of the right amount of nutrients and flavor that you need. It is healthy for the heart as it includes no saturated fat or cholesterol. The whole-grain cereal has up to 9 important vitamins and minerals, including iron. 16.2mg
3. Ralston Enriched Bran Flakes Cereals (28.42mg/100g)
This is one we love, the bran flakes always go beyond expectations. A cup of bran flakes provides above 100% of the iron that is required daily. This means that consuming this cereal alone will provide you with the required iron content that you need. The cereal is not just a source of iron, but also for many other nutrients i.e. zinc, manganese, vitamin E, D, C, thiamin, vitamin B-12, and many more. This food has low-fat content, with only about 1.4g in one serving. Iron 28.42mg
4. Quaker Instant Oatmeal (4.64mg/100g)
We assume by now, you should know that oats are one of the healthiest grains you can consume. The instant oat is high in fiber, which helps in reducing bad cholesterol from the body, stabilizes blood sugar, and keeps you full for a long time. It comes in several flavors you'll love. The Quaker instant oatmeal contains about 4.64mg of iron, which still fulfills the recommended percent daily.
5. Honey Nut Cheerios (16.1mg/100g)
Honey nut cheerios are one of our favorites. As you must have guessed, this is attributed to its honey-like taste. Apart from this, the honey nut cheerios contain soluble fiber from whole grain oats. The cereal has low cholesterol and also provides about 12 required minerals and vitamins, it also has an iron content of 16.1mg, and this is about 45% of the daily value for iron!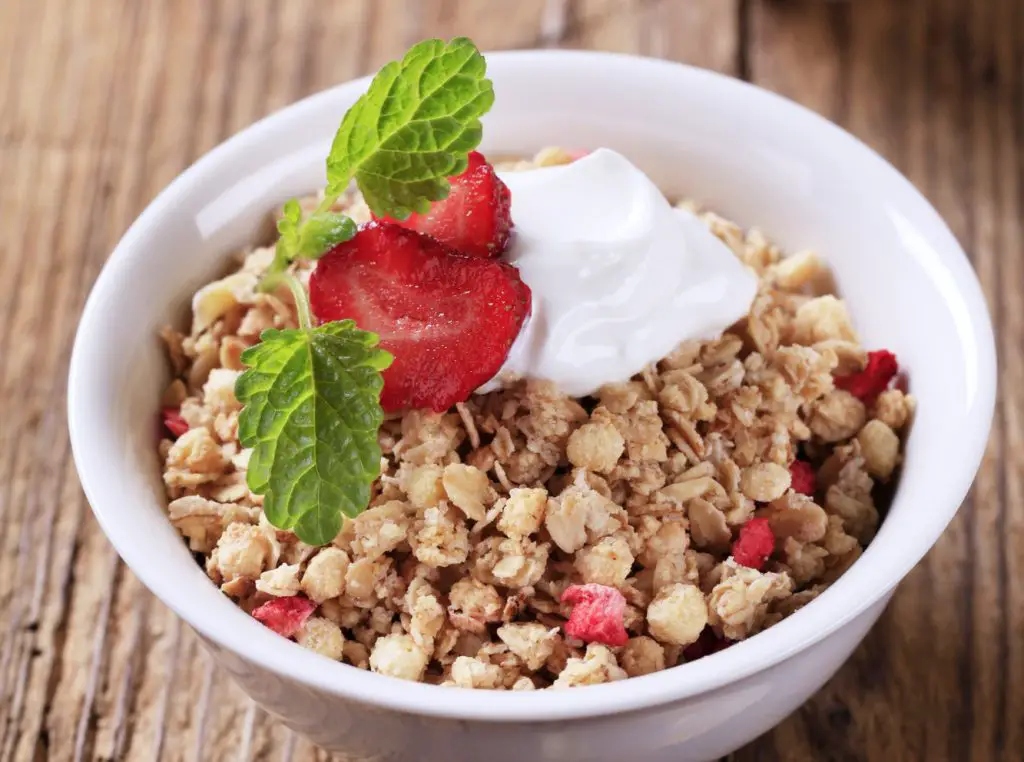 6. Kashi GOLEAN Cereal (5.0mg/100g)
The kasha GOLEAN cereal is especially loved in the vegan community, and this can be attributed to its nutritional value. The cereal is said to contain various vital vitamins and minerals i.e. protein, fiber. We rate kasha GOLEAN as one of the healthiest cereals you can have. The kasha GOLEAN has an iron content of 5.0mg.
7. Quaker Chewy Granola Bars (10mg/100g)
The chewy granola bars from Quaker are 100% whole grain, alongside other nutritious ingredients. It is made with real chocolate chips and doesn't include additives, colors, or flavors.  
8. Nature's Path Organic Flax Plus Multibran Flakes (5.89mg/100g)
This goodness is made with nutty flax seed, organic wheat, and oat bran. The cereal contains major fatty acids required by the body, protein, and of course, fiber. It is described to be a source of omega 3, protein, etc., it is also gluten-free and vegan friendly. Nature's Path organic flax plus has about 5. 89mg of iron in it!
9. Cheerios Breakfast Cereal (12.6mg/100g)
Cheerios breakfast cereal is one of the healthiest cereals you can have. They are made from whole grains, low in fat and calories and they are even affordable. Cheerios contain vitamins, minerals, and other nutrients that are healthy to the body, including iron.
10. Poop Like A Champion Healthy Choice Ultra High Fiber Cereal
The poop like a champion healthy fiber is made to provide all the nutrients you require in one serving. The cereal is as natural as it can be. The ingredients are of high quality and they're chemical-free. It's high in fiber, keto-friendly, and gluten-free. It encourages digestion, is low in carbs, and of course, is high in iron.
11. Welch Fruit Snacks
The welsh fruit snacks are made with real fruits! Apart from being a very healthy cereal, you get to have the real taste of the different mixed fruits. The cereal is gluten-free, without additives, colors, or artificial flavors. Because of the number of fruits in this food, it is full of many nutrients that are required for healthy growth.
Iron Fortified Cereal Options By Region
Due to dietary restrictions and regulation rules in different countries, you might not be getting the same amount of nutrients in the same pack of cereals from the same brands, if you live in these countries, these are the best cereal options for you;
Available Iron Rich Cereals In the US And Canada
Ralston Enriched Bran Flakes

Kellogg's All-Bran Complete

General Mills Whole Grain Total
Kellogg's Product 19
Malt-O-Meal Puffed Wheat Cereal.
Available Iron Rich Cereals In the UK And Ireland (European Region)
Quaker Oats
Healthwise Bran Flakes
Flahavan's Porridge Oats

Kellogg's Special K, Original

Healthwise Sultana Bran
Available Iron Rich Cereals In Austraila And New Zeland
Uncle Toby's Plus, Iron
Kellogg's Corn Flakes Gluten Free
Sanitarium Weet-bix
Kellogg's Rice Bubbles.
Final Thoughts
Although iron is ideal for the body, it is, however, advisable that you do not contain too much iron as this can affect your health. Consuming too much iron can lead to; nausea, vomiting, abdominal pain, constipation, stomach upset, etc.
The NIH warns against iron intake of above 40mg daily (age 13 and less) and 45mg for adults. Healthy eating is the best source of getting nutrients into the body, the following are some of the foods that can also provide you with iron apart from cereals.
Beans, baked potatoes, spinach, tofu, turkey, chicken, oyster, apple, olives, mulberries, asparagus, mushrooms, etc. are some great examples of these kinds of foods.