The recipe to go for when you want a soup that is delicious, silky smooth, and provides you with lot's of nutrients is this asparagus soup recipe, there are many recipes for asparagus soup however this has been created with ingredients that are easy to get and also increase the rich flavor of the soup. Asparagus is one of the most nutritionally well-balanced veggies, it's high in fiber and also a good source of thiamin, potassium, vitamin A, B6, and C, and if it's extremely low in calories which makes it ideal to be included in your diet plan if you are trying to lose weight.
Making asparagus from scratch is healthier as you get to take note of the ingredients that go into it and you are sure to enjoy it more using this recipe. 
The delicious asparagus soup is high in anti-inflammatory nutrients and it can be enjoyed in any kind of season, there is nothing like fresh in-season asparagus and this is one delicious soup to make with it, you are going to want it again and again. One of the reasons why you should have this soup included in your diet is that it is a healthy vegan soup that can be enjoyed by anyone and it is absolutely wonderful and easy to make.
Asparagus is a tasty vegetable and eating this has lots of potential benefits to be derived from and whenever you think of a healthy dish to make with asparagus, all you have to do is get enough of it to make this delicious asparagus soup. 
Can You Freeze Asparagus Soup?
Yes, asparagus soup is freezer friendly and all you need is the proper way to get it frozen, you can freeze the soup for up to 3 months and still have it retain its taste, to have it ready to be eaten, defrost it in the refrigerator for 12 hours and then reheat on the stovetop over medium heat until it's hot and it's ready to be served.
Asparagus Soup Recipe
Creamy, delicious asparagus soup that makes for a lovely light Spring dinner.
Ingredients
1 bunch of asparagus
6 cups of stock*
½ medium onion, diced
1 shallot, diced
1 garlic clove, minced
1 tbsp butter
salt & pepper
½ lemon, juiced
½ cup parmesan, grated
¼ cup heavy cream
Instructions
Chop the asparagus into chunks, and set the tops aside.
Place a stockpot over low medium heat, add the butter, onion, garlic and shallot. Stirring often, cooking until the onion is soft and the garlic is fragrant about 10 minutes.
Add in the stock and the asparagus, bring to a boil, and then simmer covered for 30 minutes until the asparagus is soft.
Remove from heat and puree using a hand blender until smooth.
Optional: Press the soup through a fine-mesh strainer, this additional step will give a smoother, thinner soup.
Return the soup pot to low heat, add in fresh lemon juice, cheese, and cream. Stir through and season with salt and pepper.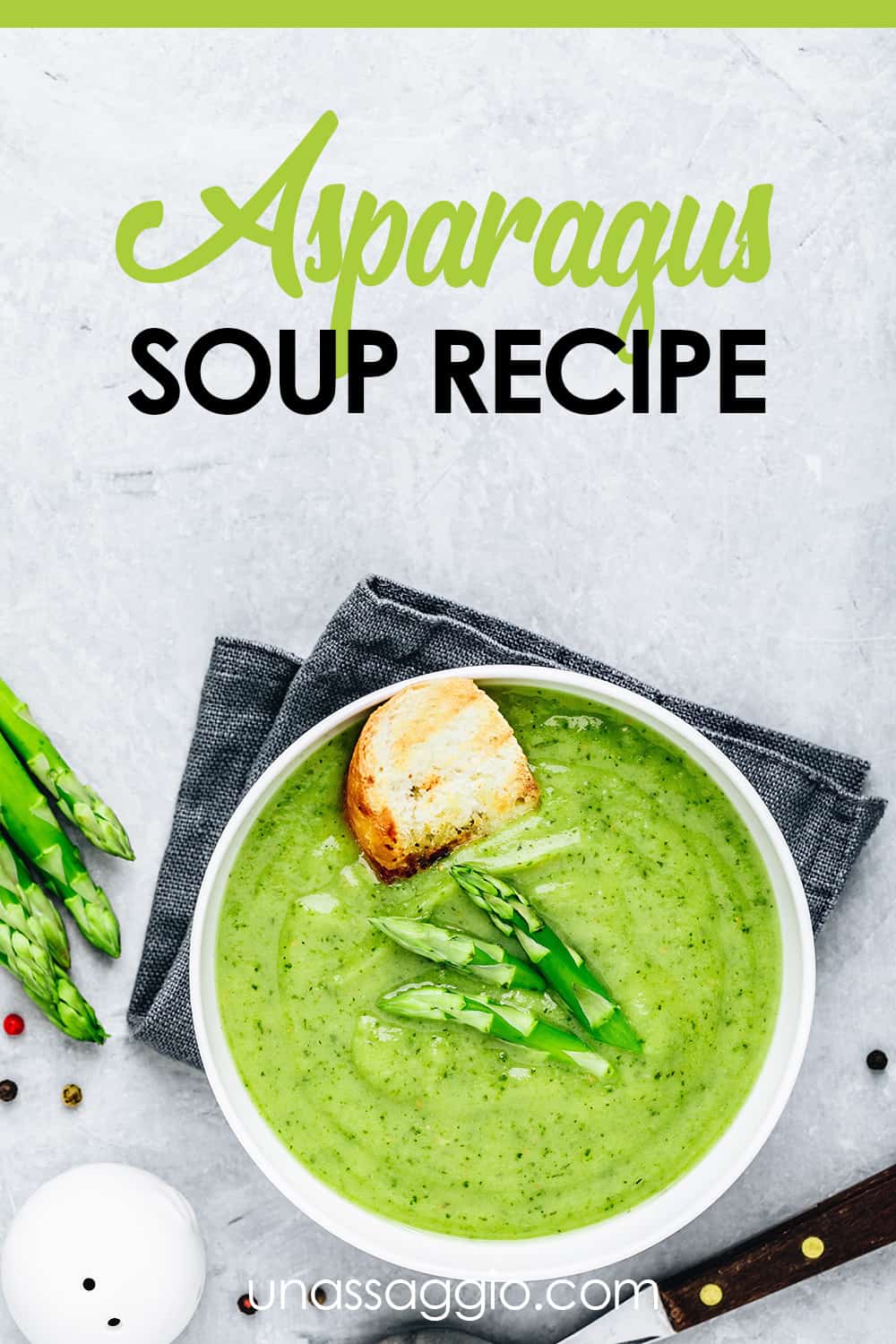 See more recipes on our site: