What comes to mind when you think of Mexican food? There are so many Mexican recipes however spice is one thing to keep in mind when it comes to Mexican dish however If you love your food less spicy and also have a thing for tasty Mexican food as much as we do then you are going to love this green chile chicken enchiladas recipe, this is quite easy to make and doesn't come with a long list of ingredients either, there are many ways an enchiladas recipe can be created but this is definitely one to try, it has been recreated to suit everyone's taste bud. 
Mexican food is diverse and it's more a complex layer of flavor than hot and spice actually hence there shouldn't be a problem creating this amazing recipe to taste Mexican and with less spice. This recipe will you make amazing green chile chicken enchiladas, keep in mind that you can make this spicy and hot if you want however the spice has been tempered with chicken stock and lime juice.
You are going to love these delicious green chile chicken enchiladas if you have no tolerance for spice and if you do also have a thing for enchiladas, you are going to this delicious variation. Keep in mind that enchiladas are stuffed tortillas and coated and baked with a chile sauce which means really spicy.
Is Green Enchilada Sauce The Same As Salsa Verde?
These two are quite different and the main difference to note is that green enchilada sauce is cooked while salsa verde is raw, enchilada sauce also requires liquid which can be water or stock but salsa verde ingredients are simply blended together and eaten. 
Green Chile Chicken Enchiladas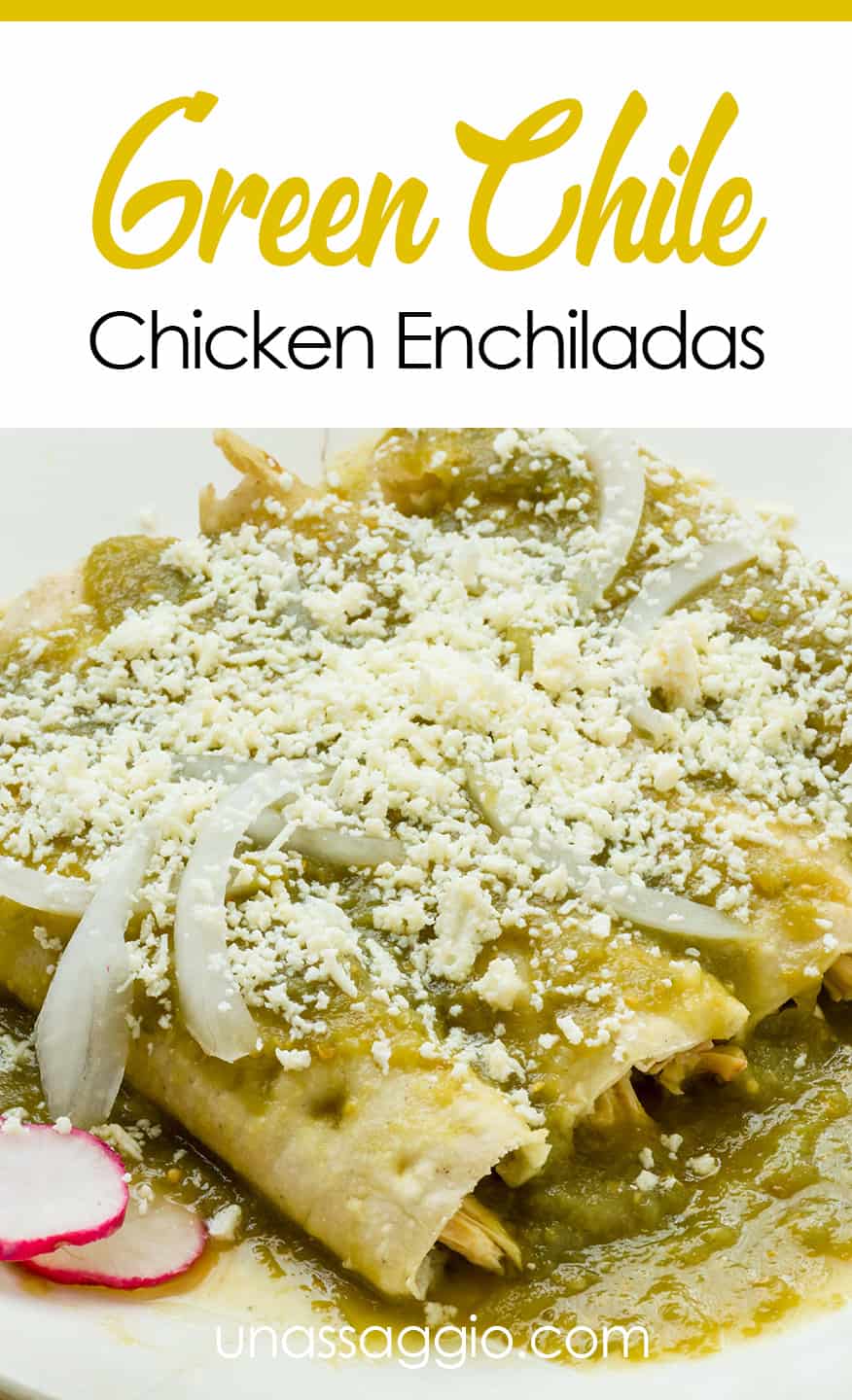 Ingredients
8 yellow corn tortillas
2 cups rotisserie chicken, shredded*
2 cups oaxaca cheese, shredded
2 cups green Mexican sauce
½ cup red onion, finely diced
2 cloves garlic, minced
½ cup chicken stock
½ tsp ground coriander
½ lime, juice
vegetable oil
salt and pepper
¼ cup sour cream
1 tbsp milk
Instructions
Place a large saucepan over medium heat with vegetable oil. Add onion and garlic, sauté for 5 minutes until onion is soft. Stir in coriander, then add chicken stock, green Mexican sauce and the juice of half of lime. Reduce heat to low, season with salt and pepper, and allow sauce to simmer for 30 minutes.
Preheat oven to 400F.
In a mixing bowl, toss chicken with 1 cup of green sauce and ½ cup of shredded cheese. Set aside.
Heat vegetable oil in a fry pan over medium high heat. Working one at a time, fry tortilla, turning once, until just starting to brown and crisp, about 10 seconds per side. Transfer tortilla to paper towels to drain. Repeat with remaining tortillas.
Spread 1 cup green sauce lengthwise down the center of a 13×9" baking dish. Working one at a time, spread ¼ cup chicken mixture down the center of tortilla and fold one side over filling, then continue to roll enchilada onto itself. Place seam side down in prepared baking dish as you go (enchiladas should be nestled right up against each other). Top with remaining green sauce and cheese.
Bake until sauce is bubbling and cheese is beginning to brown, 20–25 minutes. Let sit 10 minutes.
Mix sour cream and milk to make a crema to garnish enchiladas.
Notes
Serve with a green salad.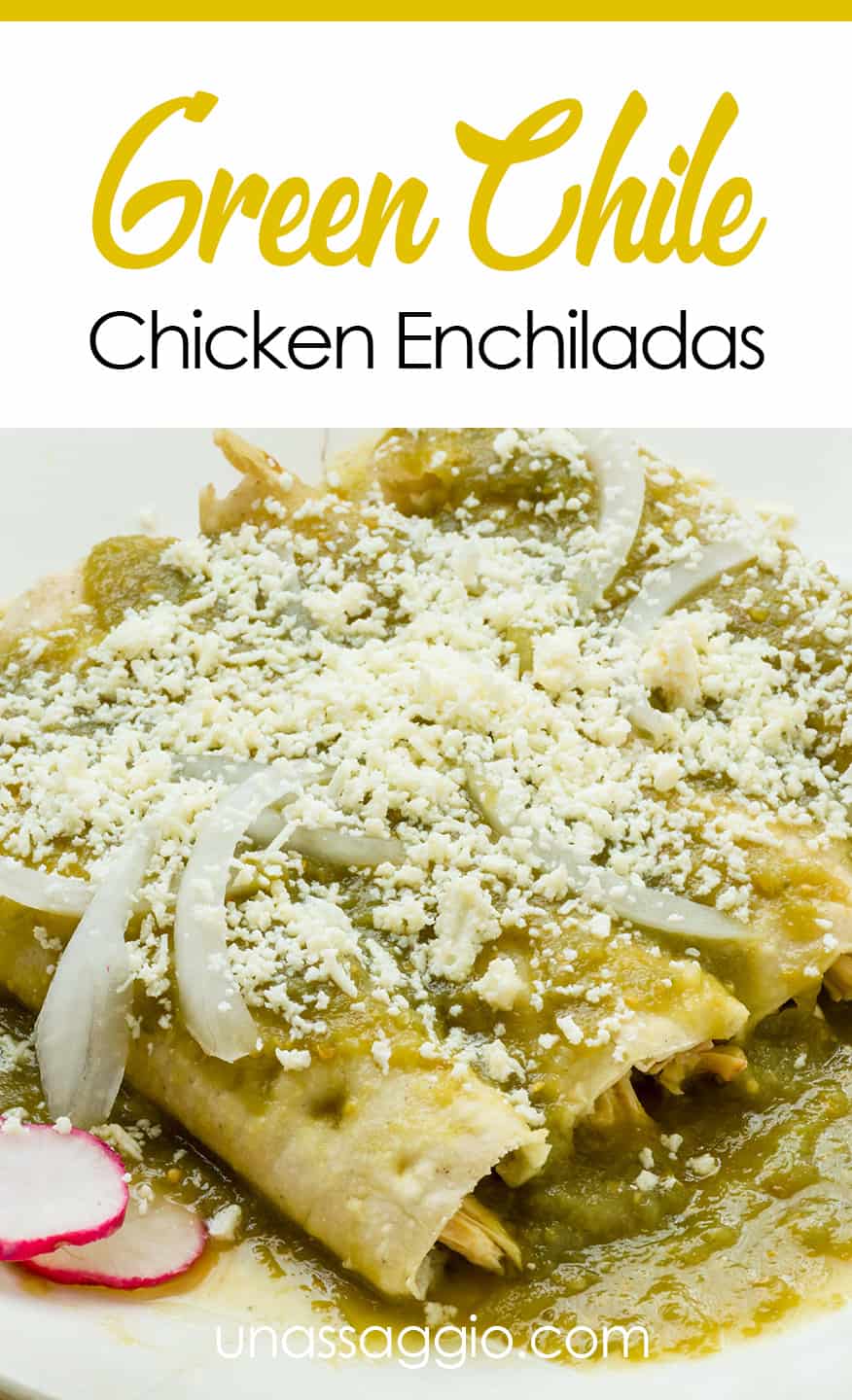 See more recipes on our site: