Halibut with saffron cream sauce is a very recipe to be prepared at any time of the day, this is one delicious dish you can enjoy with friends and family, in 15 minutes, this should be ready for you to eat and there it is quite a healthy food as well. The ingredients used in making halibut with saffron cream sauce are very few which means spending less money on it and it can be consumed at any time of the day however dinner seems to be the best time to have it. Saffron is a powerful antioxidant spice and when used with other nutritious ingredients such s garlic, it can enhance weight loss and it is generally safe for most people to be added to their diet plan.
This is not just a delicious recipe to be consumed but quite healthy as well, this is one tasty way to prepare halibut without worrying about any added fats, it's a great dinner to make for family and it's even more amazing when served with rice, boiled potatoes or spinach.
Halibut is a good source of protein and should definitely be included in your diet as it is also rich in several B vitamins and with this simple recipe, you can enjoy it while promoting your heart health.
Is Halibut A Good Fish To Eat?
This simple answer to this is yes, it is noted for its good taste and firm texture. Halibut is a good source of protein, also rich in selenium, vitamin D, phosphorus, and several B vitamins. It will also provide you with some omega 3 fatty acids and it's a good choice of fish for promoting heart health.
What Are The Benefits Of Saffron?
Saffron has been linked to many health benefits such as:
Enhanced weight loss
May improve mood and treat depressive symptoms
May have cancer-fighting properties
Safe for people and easy to add to your diet
May reduce PMS symptoms
Halibut With Saffron Cream Sauce
Pan-seared halibut with saffron and parsley cream sauce.
Ingredients
Garlic & Parsley Butter
6 tablespoons of butter
4 garlic cloves minced
2 tablespoons of finely chopped fresh parsley
Fish
8 halibut steaks
Sauce
1.5 cups white wine
9 tablespoons of heavy cream
2 pinches of saffron
Salt and pepper
Oil
Instructions
To make parsley garlic butter but mixing 6 tablespoons of butter with 4 garlic cloves minced and 2 tablespoons of finely chopped fresh parsley. Allow sitting in the fridge for 24 hours
Heat 1 tablespoon of butter and oil in a large skillet over medium-high heat.
Season 8 halibut steaks with salt and pepper.
Cook halibut steaks approximately 3 mins per side depending on the thickness of the steaks.
Once cooked remove from pan, cover with foil, and set aside.
Add 1.5 cups of white wine to the skillet and reduce over high heat by half (approx. 5 mins)
Reduce heat and mix in 6 tablespoons of parsley garlic butter, stirring constantly to blend.
Add 9 tablespoons of heavy cream and 2 pinches of saffron.
Allow sauce to thicken over low heat and season with salt and pepper.
Notes
Serve with halibut with sautéed yellow beans (seasoned with pepper), roasted broccoli, and saffron rice pilaf with red peppers and almonds.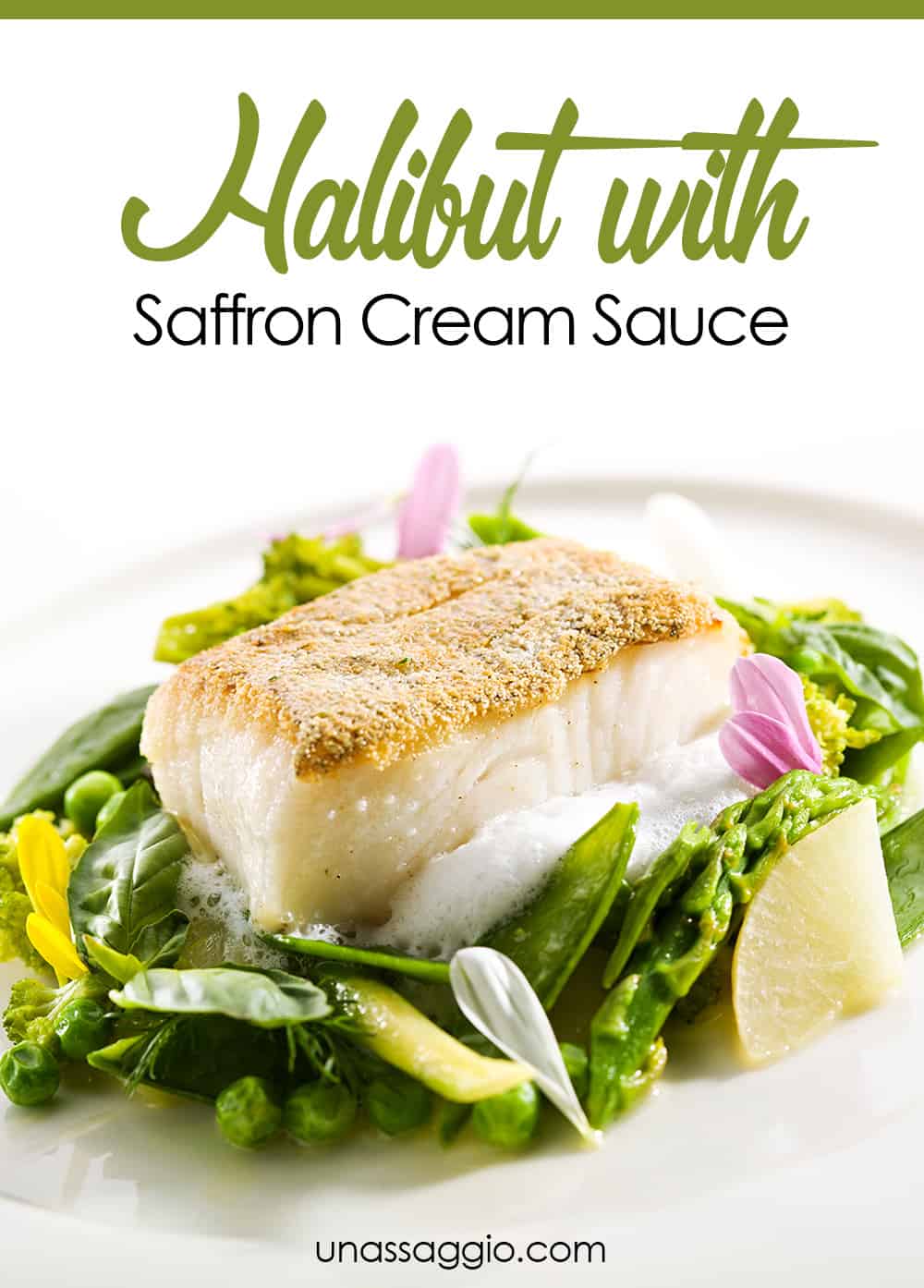 See more recipes on our site: