If you are looking for a meal to make your Sunday a really special one and can't come up with any new recipe then we have the perfect one for you, suckling pig leg roast is the ultimate Sunday roast you should definitely give a try, this delicious meal is sure going to light up your mood and we must admit, this is a recipe that isn't talked about much but there are going to be days you need something special and simple then we have the perfect dish for you. Pork is high in protein and can protect your long-term health hence next time, your butcher has a sucking pig leg for you, all you need is this suckling pig leg recipe.
There is truly nothing as comforting as a roast on a Sunday and it's lovely to have a healthy roast recipe that can be enjoyed by everyone in the family
Sucking pig leg roast contains very few ingredients however they are all healthy and it is very easy to make, this could be enjoyed as dinner or serves as a pub lunch with friends or a full dinner with friends and family at a weekend gathering. 
Is Pork Meat Good For Health?
Pork is not just one of the most commonly consumed meat in the world due to its tasty flavor but it's actually very healthy, it is an excellent source of protein and provides several key nutrients such as important vitamins and minerals. When consumed the right way, it can be a nutrient-rich food as it contains a complete source of protein and there are many amazing ways it can be included in your diet plan however they should not be consumed in excess as it contains a certain amount of fat tat can cause you to gain weight.
Suckling Pig Leg Roast
Cook Time
2 hours
30 minutes
Additional Time
20 minutes
Ingredients
4 sprigs of thyme
1/4 small onion sliced
1 bay leaf
garlic cloves
Instructions
Placing the meat onto the rack in my roasting pan I filled the bottom of the pan with chicken stock, 4 sprigs of thyme, 1/4 small onion sliced, and 1 bay leaf.
Covering the pan, I roasted the pig at 300F till the internal temp was 160F – approximately 2.5 hours.
Once it was finished cooking I removed the skin, placed it on a baking tray and put it back in the oven at 425F to crisp. Approximately 20 mins.
In the meantime I prepared the gravy by bringing the remaining stock to a boil, adding Worcestershire sauce for colour and gravy flour to thicken. Season to taste with pepper.
I strained the gravy before serving to remove the onion, bay leaf, and thyme leaves.
Notes
Served roast pig leg with roasted parsnip, honey glazed carrots, and garlic sautéed spinach.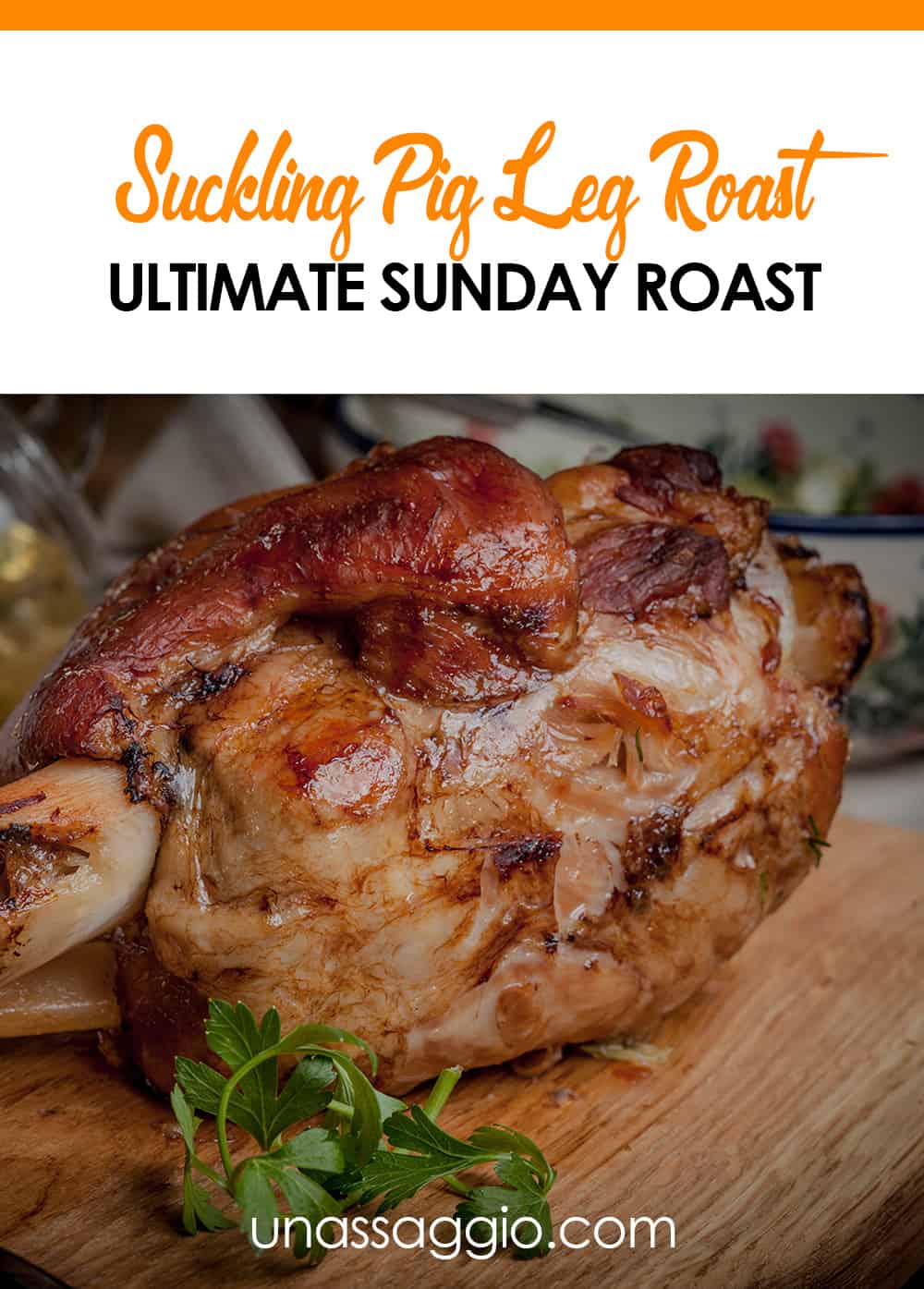 See more recipes on our site: