Are you a lamb lover? If the answer is a loud excited yes then you are definitely going to love this lamb barley stew recipe, this is described as a luxury dish, and although lamb has a distinct flavor but slightly sweet when compared to beef. This is quite healthy as one serving of vegetable barley soup gives 61 calories and this should definitely be included in your diet as there is just something about this stew that is luxurious and you are going to love the rich flavourful taste. This stew tastes even better the next day, it is very easy to make as well and all you have to do is carefully follow the recipe we have below.
Lamb barley stew is a nutrient-packed soup that will keep you full longer and can be included as part of your weight loss diet, it is rich in fiber and protein which is gotten from the barley and veggies included in it. This recipe does come with a long list of ingredients but it's easier to prepare than it looks and it has a delicious taste that will have you wanting more hence we suggest having leftovers plus it freezes exceptionally well.
This is a simple lamb barley stew recipe you should give a try as it makes a really nutritious meal to be enjoyed by the whole family and also a good source of iron and protein for growing children.
Should I Cook Barley Before Adding It To Stew?
This solely depends on how long the soup cooks for however as with most grains, it is a good idea to have it washed before adding to the soup however if you want to add barley to stew and does not want it to thicken then we suggest cooking it separately first.
Lamb Barley Stew Recipe
Freezer friendly lamb stew recipe can be made ahead for easy weeknight dinners. Recipe adapted from Delicious Magazine Lamb and Pearl Barley Casserole.
Ingredients
1 tbsp olive oil
0.6 kg lamb stew meat (cubed)
1 celery stick (diced)
2 medium leeks (sliced)
2 carrots (diced)
2 garlic cloves ( minced)
1 tbsp plain flour
200 ml red wine
800 ml beef stock ( hot)
¾ cup pearl barley
2 fresh bay leaves
small Italian parsley (bunch fresh)
Salt
pepper
Mustard and Parsley Dumplings
1 cup flour (self-raising)
3 tbsp butter ( softened)
2 tbsp Dijon mustard
¼ cup mature Cheddar (grated)
1 tbsp parsley (chopped)
1.5 tbsp water
Instructions
Heat the oil in a dutch oven over medium-high heat. Season the lamb and sear in batches, until browned. Remove the lamb and set aside.
Add the celery, leeks, and carrots to the dutch oven and sauté for 3-4 minutes. Add the garlic and cook for 1 minute, then stir through the flour.
Pour in the wine and bubble for a few minutes, scraping the brown bits from the bottom of the pan. Then add the hot stock, barley, bay leaves and parsley bundle. Return the lamb to the pan, and bring to the boil, cover and simmer for 1 hour until the lamb is tender. Remove the bay leaves and herbs.
While the stew cooks, make the dumplings. Mix the flour, butter, mustard, cheese and parsley with salt and pepper and a splash of water, until you get a soft dough.
Roll into walnut-sized balls. After the stew has cooked for one hour, add the dumplings to the stew and cook for another 30 minutes more.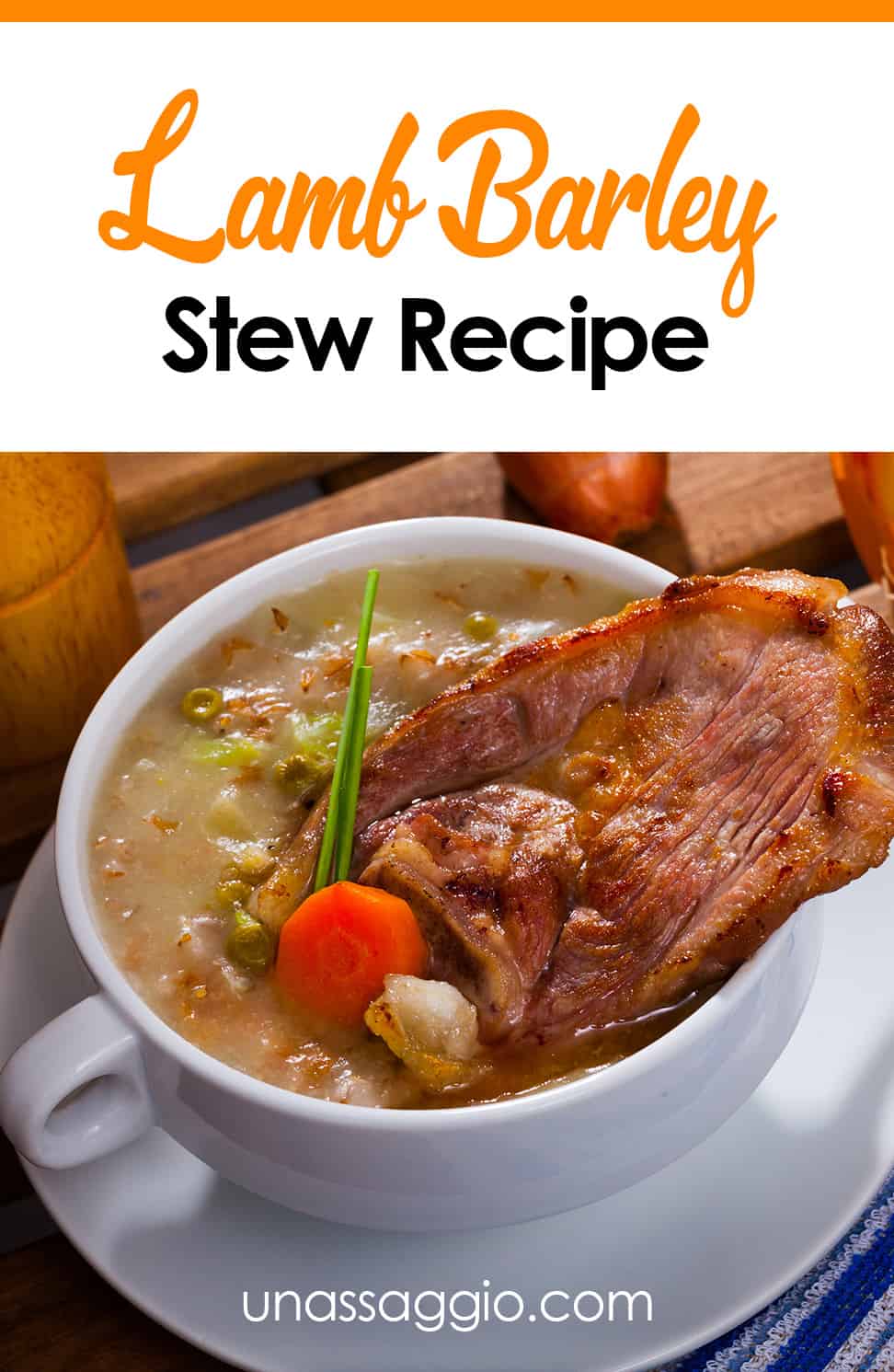 See more recipes on our site: