If you are looking for delicious comfort food then here you have it, the red wine braised boneless beef short ribs are simply amazing and the full credit of this amazing recipe from Jamie Oliver cooking tip for braising meat.
This recipe of red wine braised boneless beef short ribs is meltingly tender it makes a classic comfort food for anyone, the recipe used in making this is going to decide how effortless and stress-free it turns out to be hence this recipe has been created to be as stress-free as possible. 
One of the rules of braising ribs is not to overcook, this needs to be avoided if you do not want it to fall off the bone that easily however this recipe if the instruction in this recipe is followed closely then you can cook it tender enough to be enjoyed.
Boneless beef short ribs are not just healthy but with this amazing recipe, you can have a comfort meal you can eat over and over again.
A hearty delicious wine compliments any meal and it is even greater with braising beef short ribs, the idea to creating this perfectly is to place a piece of parchment paper on top of the liquid to trap or seal in the flavors while braising, this is the tip to creating a delicious braising tip as this method improves the flavor developed during braising.
What Are Boneless Beef Short Ribs?
Boneless beef short ribs are cut from the plate or chuck and consist basically of rib meat separated from the bone, they can be primarily found in the united states. Having the bones removed makes them tender and easy to cook.
Can You Short Ribs Over Braised?
Braising short ribs takes a very long time and you also have to be careful not to overcook, let the short ribs simmer for 2-3 hours until it is fork-tender, and leaving it in any longer in the oven won't cause it to fall off the bone.
Yield: 4
Red Wine Braised Boneless Beef Short Ribs
Cook Time
2 hours
30 minutes
Total Time
2 hours
45 minutes
Ingredients
6 x 8-10 oz. pieces boneless beef short ribs (ask your butcher to prepare)
1/8 olive oil
3 strips of bacon cut into pieces
3 tablespoons butter
2 carrots cut into 1 " chunks
2 celery into 1 " chunks
1 onion cut into 1 " chunks
2 cloves garlic lightly smashed
2 sprigs fresh thyme
1 fresh bay leaf
1 cup of red wine
2 tbsp tomato paste
900 ml beef stock
Instructions
Cut bacon into strips and cook in a large dutch over medium heat. Once brown remove.
Add olive oil, heat until nearly smoking. Season ribs with salt and pepper. Sear ribs till brown on all sides. Add butter to the pan and cook vegetables over medium-low heat until golden.
Add the garlic, and thyme stir well. Then add the red wine and reduce till almost dry, add the tomato paste and beef stock stir well until the tomato paste is completely incorporated.
Add bay leaf and 'tuck-in' meat.
Place into oven and cook at 275F for 3.5/4 hours. Until the meat is tender and looks yummy and juicy.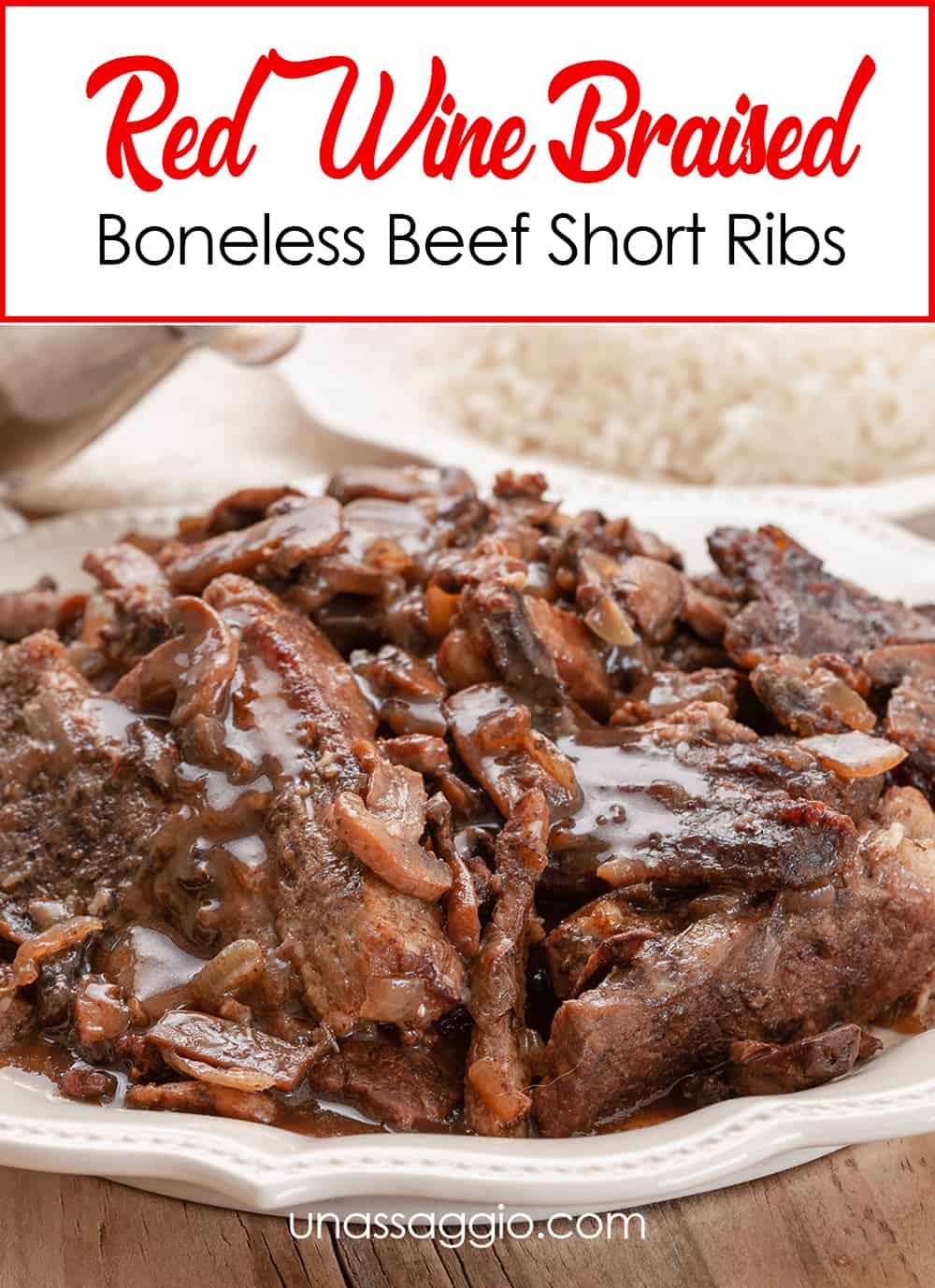 See more recipes on our site: