If you want to wow at your next party or family gathering then we have just the right dish to make that happen, you should definitely try the slow-braised pork cheeks, your guests are not going to be disappointed, the beauty of braised pork cheeks is that it's virtually impossible for you to overcook it, this provides you with a healthy meal you will surely love to share with family and friends however you need to be extremely cautious when making this recipe as it has to be made in advance as you have to order the pork cheeks from your butcher but be rest assured the effort put into this is worth it.
The result of this slow-braised pork cheeks gives you a melting delicious dish. 
Pork cheeks are an Italian cured meat product that is often overlooked but this is actually healthy meat and cheap as well, to maximize the flavor of this dish, it is slow-cooked to ensure the cheeks are not tough and can be devoured easily and enjoy when they are meltingly tender.
This slow-braised pork cheek is a step up from the normal pork dish, it is rather more sophisticated and can be called a luxury meal, this is an extremely popular dish and with this recipe, you can create something even more tasty and exciting. The slow-braised pork cheeks recipe is definitely a classy dish every foodie would love.
What Are Pork Cheek Meat?
Pork cheek meat as the name implies as the stripes of meat that sits in the basin of the cheek underneath the animal's eye and for those who are not familiar with it at all, it is literally the cheek meat of the pig and when cooked properly, the meat falls apart at the touch of a fork as it becomes very tender and it remains succulent. Pork cheeks are also referred to as Guanciale which is an Italian pronunciation for cheek.
Slow Braised Pork Cheeks
Ingredients
6 pork cheeksflour, for dustingolive oil, for frying
1 onions, peeled and cut into chunks
½ leek, cut into 1 cm cubes
1 large carrot, peeled, cubed
2 sticks celery, cubed
1 clove garlic, minced
1 tbsp tomato purée
2 cups red wine
300 ml good quality beef stock or enough to cover
½ tsp cracked black peppercorns
1 bay leaf
Instructions
Season the cheeks with salt and pepper and dust with a little flour.
Heat olive oil in a large ovenproof pan and fry the cheeks until golden-brown on both sides.
Remove from the pan and set aside. Add the onions, leek, celery, carrots, and garlic and fry gently until lightly browned.
Add the tomato purée and a little of the red wine. Reduce until the tomato purée starts to caramelize and darken.
Continue adding the wine a little at a time, reducing between each addition until the sauce is rich and dark. Preheat the oven to 250F
Return the cheeks to the pan and add just enough beef stock to cover.
Add the peppercorns, and bay leaf and bring to a simmer.
Cover with a lid and cook in the oven for 4 hours. Stir every hour or so, adding a little more brown stock if it starts looking dry.
Remove the cheeks and pass the sauce through a cheesecloth into a clean pan.
Bring to the boil and reduce to a good consistency. Season with salt and pepper. Serve over parsnip mash with roasted carrots
Notes
Serve over parsnip mash with roasted carrots.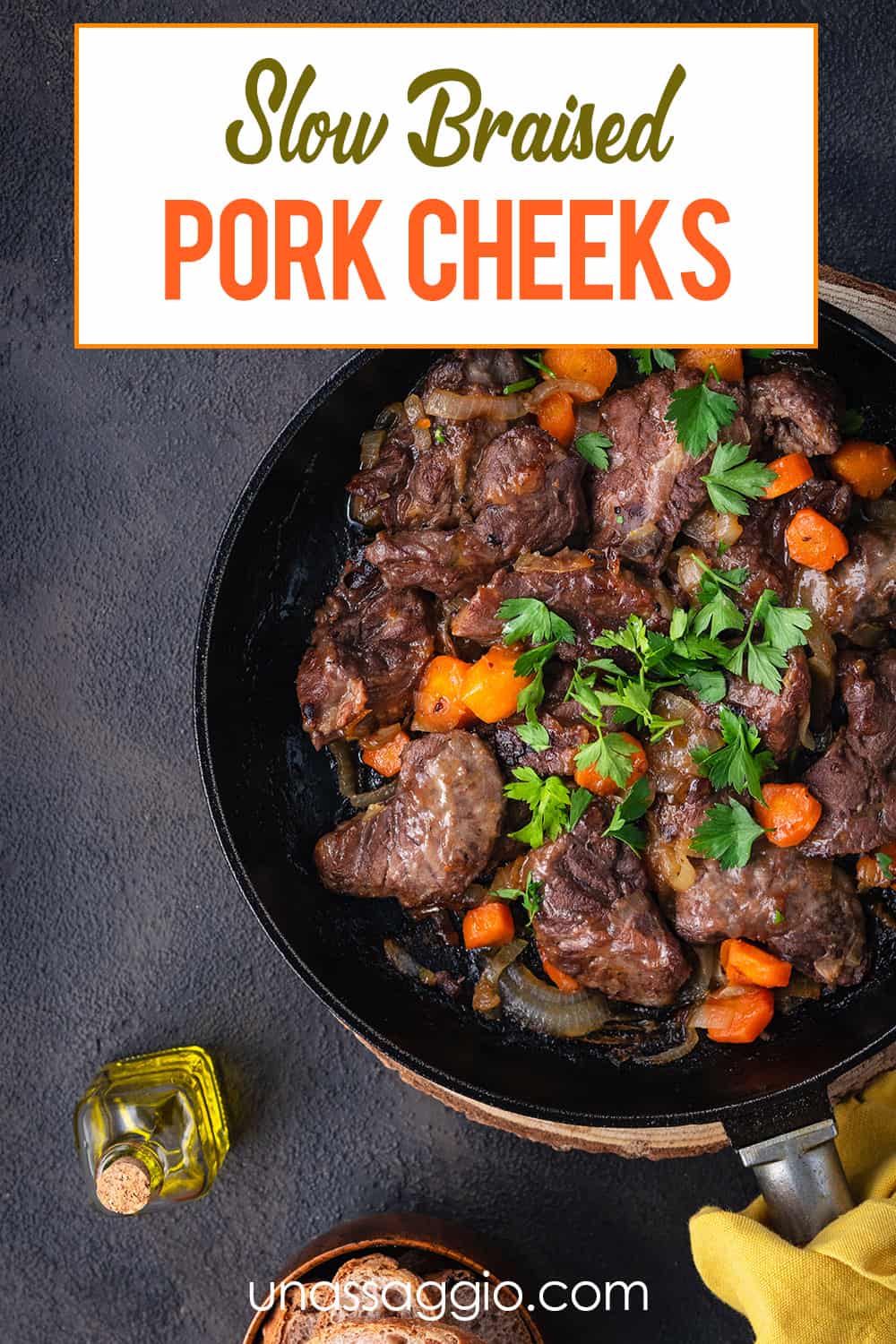 See more recipes on our site: