Jamie Oliver is one of the best-selling authors of all time and we must say Jamie's sweet and sour fish ball is one delicious meal that is advertised top help save money however this might be a bit under consideration although the cost is a fraction of a Chinese takeaway.
Sweet and sour fish balls is an old Anglo Chinese classic and you are definitely going to love it's sweet and sour flavor, the ingredients for this is quite a long one but be rest assured they are easy to get and it's got beautiful texture and taste that makes the efforts all worthwhile.
The recipe for sweet and sour fish balls is definitely going to catch your attention if you are a fan of a healthier option compared to Chinese takeout although this might not be low in budget meal Jamie Oliver advised it is but it is cheaper than getting a takeaway and you are going to have a great time making it and overall the cookbook is something to have at hand as it contains more delicious healthy meals and makes a great addition to the cookbook shelf.
Jamie Oliver's sweet and sour fish ball is on that you can make over and over again without getting tired of the tasty flavor and you can definitely make it as simple as possible depending on what you want going into it however in this recipe, we have all the ingredients listed and all you have to do is create an amazing sweet and sour fish ball with it.
Prices pulled from the Amazon Product Advertising API on:
Product prices and availability are accurate as of the date/time indicated and are subject to change. Any price and availability information displayed on [relevant Amazon Site(s), as applicable] at the time of purchase will apply to the purchase of this product.
Are Fish Balls Healthy? 
Yes, fish balls are healthy as fish balls are low in calories 100 gram serving of this food contains 77 calories which are more than 1.5 times the amount in eggs and it contains protein as well which is vital for your health. The protein in fish balls provides your body with amino acids and it is a food choice to consider for those looking to lose weight.
Jamie Oliver's Sweet And Sour Fish Balls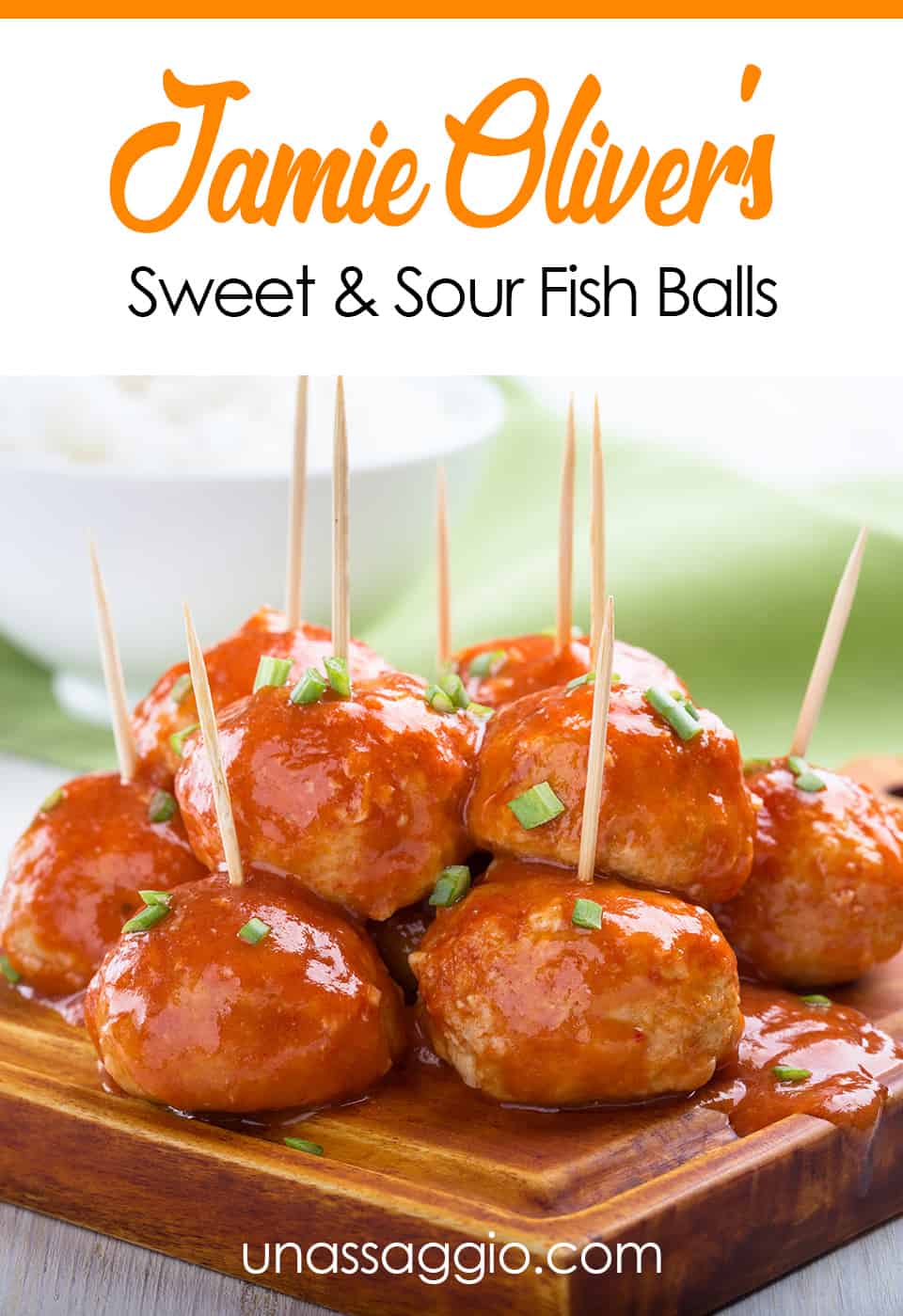 Ingredients
2 pieces of stale bread (or sub store bought bread crumbs)
1 tablespoon Chinese five-spice
1¾ cups of frozen raw squid rings or tubes
1 cup frozen peeled raw prawns
1 thumb-sized piece of ginger
Fresh coriander
1 egg
5 tablespoons cornflour
1 red pepper
1 yellow pepper
2 carrots
4 spring onions
olive oil
1 tablespoon tomato purée
2 tablespoons soy sauce
1 tablespoon hot chilli sauce
2 tablespoons white wine vinegar
1 small can (~250g) of pineapple chunks in juice
½ cup frozen peas
basmati rice
Instructions
Blitz the bread and five-spice powder in a food processor and set aside. (or mix if using bread crumbs)
Place the squid, shrimp, egg, ginger, cilantro, egg, 3 tablespoon of cornstarch, and salt and pepper in the food processor and blend till smooth. Place mixture in fridge.
Chop the peppers, carrots, and white of the scallions (set green stalks aside for later).Place the veg in a large pan over medium high heat to cook for about 10 minutes till softened.
Then add tomato paste, 2 tablespoon cornstarch, soy and chili sauces, vinegar, pineapple, and 1⅔ cup of cold water. Simmer for 15 minutes.
Add the peas in the last few minutes.Prepare basmati rice.
Take the fish mixture from the fridge. Spoon one teaspoon of the fish mixture and roll in the breadcrumbs, then roll into a ball shape.
Heat 1 tablespoon of oil in a large fry pan, once heated, cook fish balls for approximately 5 minutes until golden brown
Notes
To serve, pour the sauce on to a large platter, place the fish balls on top. Serve with the basmati rice and top with chopped scallions.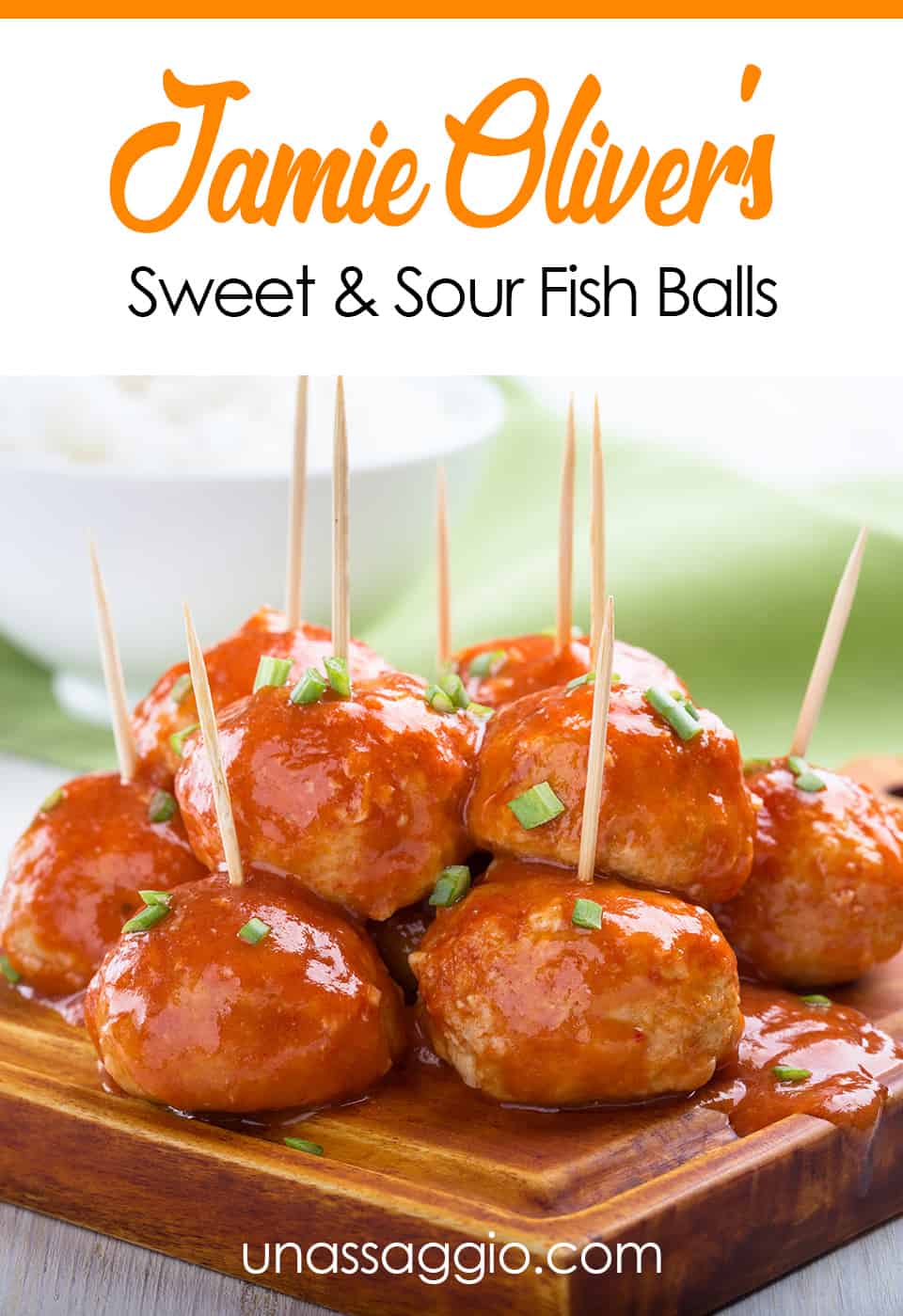 See more recipes on our site: