If you are on the lookout for a classic bread to bake with ease then we have just the perfect recipe for you, this is insanely easy to make and quite delicious and it also comes with simple and perfect recipes you do not have to worry about being expensive. Bourbon banana bread with cream cheese glaze should be the perfect definition of perfection as it's not just delicious but you do not have to worry about it coming out imperfectly, all you have to do is try again until you get it right as we all know perfection is overrated.
This amazing bread recipe requires patience but the effort is worth it eventually, it may look impressive and daunting but it takes time to make it and comes out really great with the right recipe.
This easy banana bread recipe and with the cream cheese filling added to it, you get a memorable delicious bread you are going to love, this has been topped with bourbon and infused with cheese to give you a unique taste and if you are a first-time baker you won't spend the time patiently watching the clock as thinking you should follow instructions or not and when your intuition is telling you to take it out as the recipe is easy to follow.
Your baking skills are sure going to get better if banana bread is the basis of your baking experience, this allows you to keep experimenting till you get it right, patience is the keep to making a delicious bourbon bread with cream cheese glaze. the ingredients are all easy to get and have mixed together however when your banana bread ends up a little darker around the edges than you would like, you can always try again as we have earlier stated, perfection is overrated.
How Do You Keep Banana Bread Moist?
After baking bread, keeping it moist is the next important step to worry about however when it comes to banana bread, all you have to do to keep it moist is to have it tightly wrapped in plastic film or between two paper towels in an airtight container. The wrap will keep moisture in the bread and the inside stays moist as well, the paper towel will prevent moisture from leaking out and when wrapped correctly, banana bread will last over a week. 
Bourbon Banana Bread With Cream Cheese Glaze
Bourbon banana bread with a bourbon infused cream cheese glaze.
Ingredients
3 very ripe bananas, peeled and mashed
⅓ cup melted butter
1 cup demerara sugar
1 egg, beaten
1 teaspoon vanilla extract
1 teaspoon baking soda
Pinch of salt
1½ cups all-purpose flour
2 tablespoon bourbon
GLAZE
3 oz cream cheese
1 tablespoon bourbon
1½ cups confectioner's sugar
Instructions
Preheat oven 350F.
In a mixing bowl, stir the melted butter into the mashed bananas.
Mix in the baking soda and salt. Stir in the sugar, beaten egg, and vanilla extract. Mix in the flour. And lastly stir in bourbon.
Pour the batter into loaf pan and bake for 1 hour.
Remove from oven and cool completely on a rack, before drizzling the top of the bread with the bourbon glaze.
GLAZE: Using a hand blender on medium speed, beat the cream cheese and bourbon until smooth and fluffy. Add in the sugar and mix until combined. If the glaze is too thick, add a few teaspoons of milk or bourbon to thin out.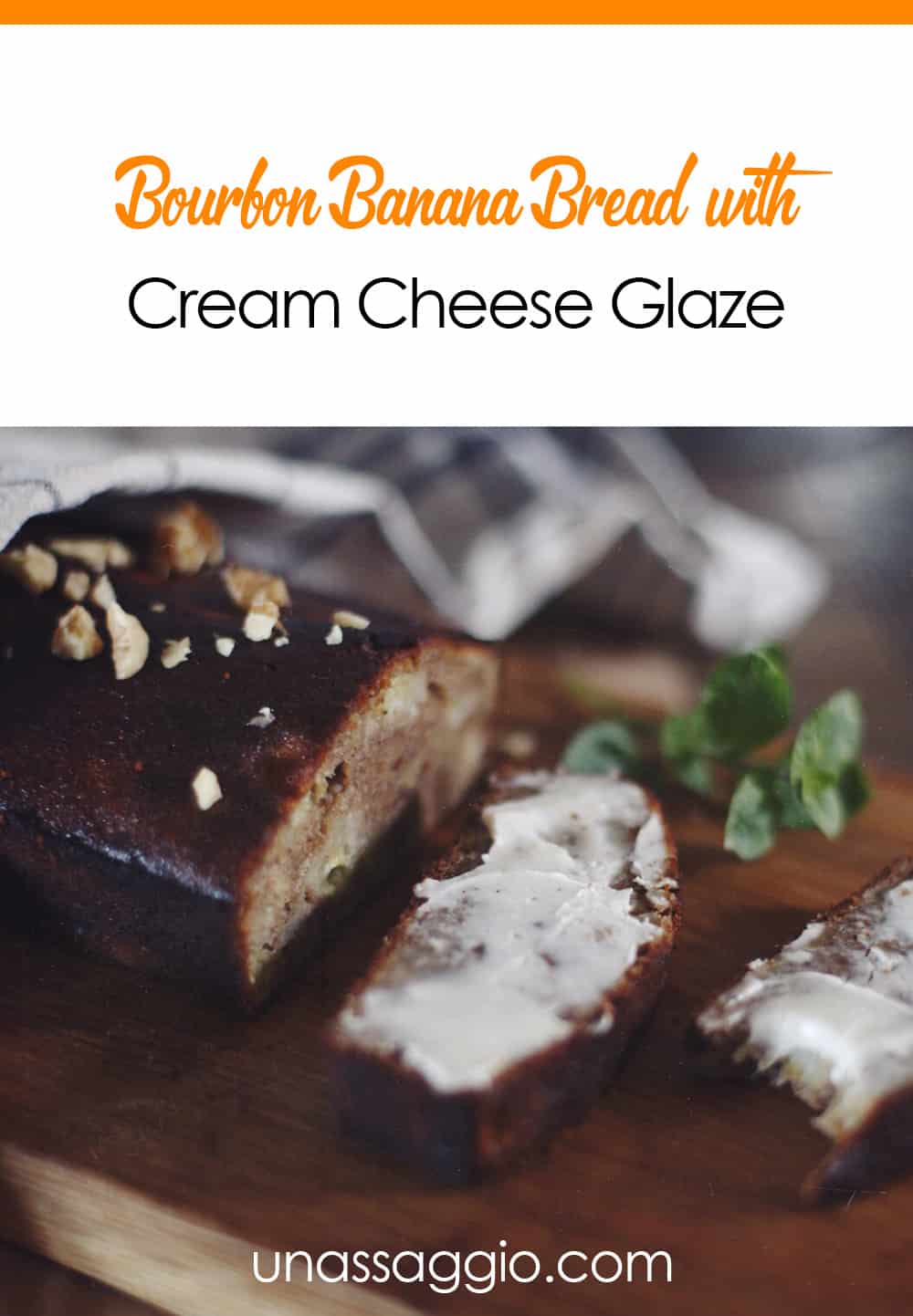 See more recipes on our site: