A Croque Monsieur is a French pronunciation for a hot sandwich made with ham and cheese and have this paired with waffles and there you have a delicious breakfast ready to be devoured and we can assure you of loving this tasty waffle dish. You must admit waffles make sandwiches a lot more fun and adding it to this recipe just seems to make it even more interesting and filling to have for breakfast, there are many ways your waffles can be enjoyed and recipes for making it is so much, you are likely to get confused on which to go for which is one of the reasons this Croque monsieur waffles recipe has been made to give you a taste of sandwich and waffles at the same time. 
This can be enjoyed at any time of the day and it is budget-friendly which means if you are a student or on a strict budget, this recipe can come in really handy, it is easy to make and there is no long list of expensive ingredients to worry about, it serves as a simple dinner and puts a fun twist on cafe classic.
The Croque Monsieur waffles is a great standard recipe that is easily adapted to and ll you need to make it look exotic is to add cheese, fruits, spice or herbs, this puts a spin on the usual waffles you are expected to have and with a delightful bottle of wine, we hope you do have an enjoyable meal. This is a surprisingly smooth dish with a velvety finish and quite enjoyable with some fresh tomatoes and a green salad.
What To Drink With Croque Monsieur Waffles
Wine pairing is vital in completing the dish, it only seems right to open a bottle of french wine to make this an even more perfect dinner, a sparkling wine or a bottle of champagne sounds great as well, they all have enough body to stand up to this rich dish. You can also go with a french malbec that would have enough tannins to cut through the richness of the cheese and the bechamel sauce and also because it makes it really tasty. 
Croque Monsieur Waffles
Fun twist on classic French bistro fare.
Ingredients
8 waffles (use favorite waffle recipe)
2 tablespoons butter
2 tablespoons all purpose flour
1 cup milk
½ tsp ground nutmeg
1 bay leaf
8 pieces sliced roasted ham
1 cup grated Gruyere cheese
Chopped chives, garnish
Instructions
Melt 2 tablespoons butter in a small saucepan over medium heat. Add flour and stir for 1 minute.
Gradually whisk in milk. Add nutmeg and bay leaf. Increase heat to medium-high and boil until sauce thickens, whisking constantly for about 2 minutes.
Season with salt and pepper.
Preheat broiler. Place waffle on the lined baking sheet.
Top each waffle with 1 tbsp of béchamel sauce, layer 1 slice of ham, topped with another tablespoon of béchamel, and cover with grated cheese.
Cooked under broiler under golden brown. Garnish with chives and serve with dijon mustard.
Cooked under broiler under golden brown. Garnish with chives and serve with dijon mustard.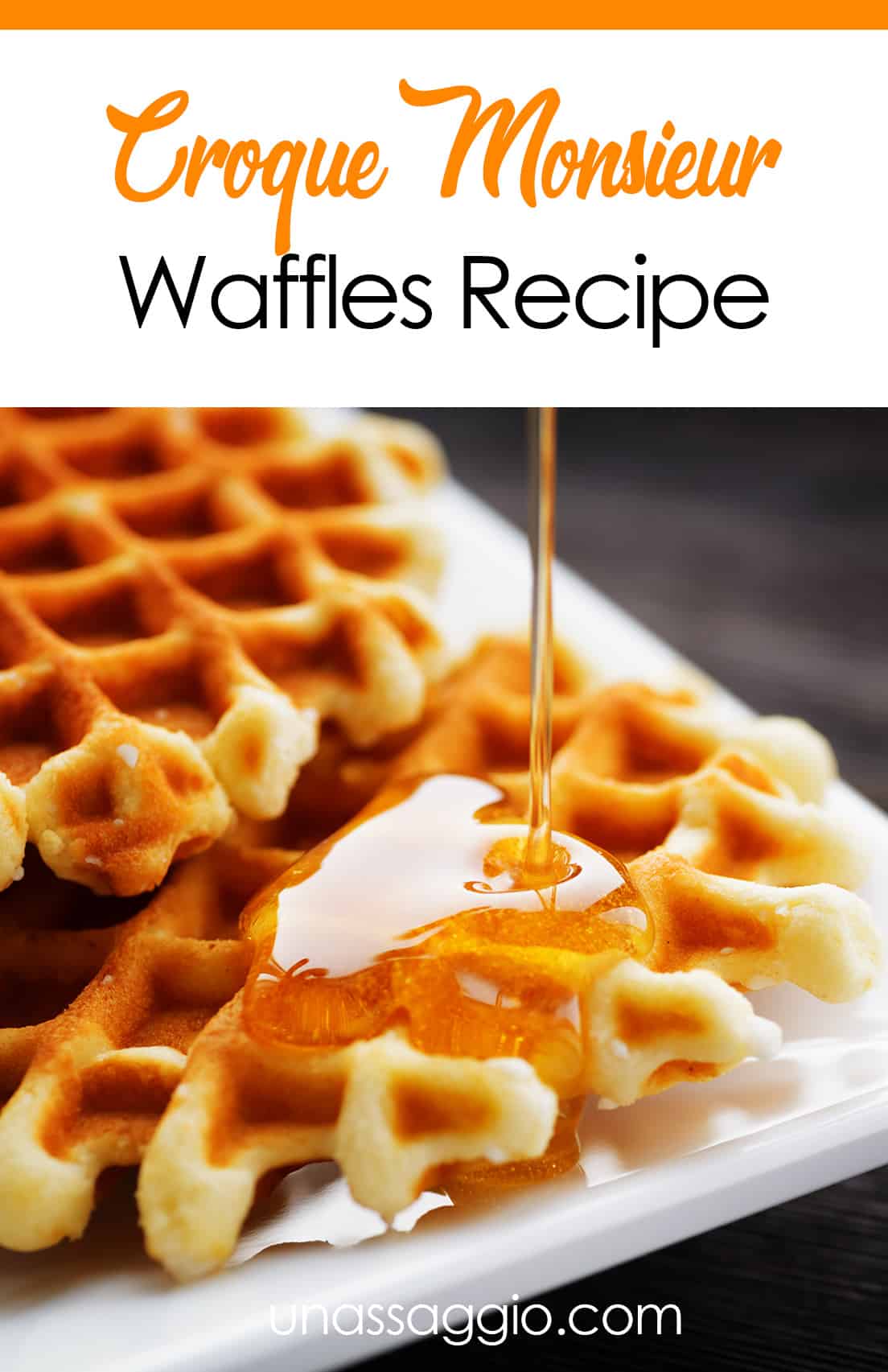 See more recipes on our site: