This shrimp version is so easy to make and the perfect choice if you are looking for shrimp pad thai recipe to make with less fuss, if you are looking for a homemade Thai recipe that is considered healthy then we have the perfect recipe for you as it is considered healthier to have this made at home rather than have it ordered at a Thai restaurant which can be unhealthy and contain lot's of calories, however, making it at home means controlling the unhealthy ingredients that go into it.
Simple shrimp pad Thai recipe has different variation and while it might not be the healthiest Thai food, it has an amazing flavour and can be enjoyed at any time of the day.
Shrimp has a variety of health benefits, it makes delicious and versatile food that can be prepared in so many different ways and the calories in shrimp are relatively low while the nutrients and protein count is high.
The antioxidants in shrimp are good for your health and it provides a wide array of impressive nutrients to the body. The ingredients used in pad thai are generally healthy but the calories can still add up fast hence we advice consuming in moderation although this is a great food choice if you need to consume more of carbs and protein.
Why Is Pad Thai High In Calories?
Most of the ingredients used in pad Thai are healthy but it does provide some calories because it is stir-fried using oil and the dish includes peanut. Pad Thai recipes can vary in calories however the shrimp pad Thai recipe isn't the highest calorie meal option on a Thai menu.
Shrimp Pad Thai Recipe
Ingredients
¼ cup water
2 tbsp rice vinegar
3 tbsp natural peanut butter
2 tbsp brown sugar
1 lime, juiced
2 tbsp fish sauce
1 tbsp hot chile sauce
1 lb cooked medium shrimp
4 cups bean sprouts
1 cup red pepper, chopped
1 cup green pepper, chopped
3 cloves garlic, minced
1 tbsp grated fresh ginger
3 green onions, thinly sliced (white and green parts separated)
2 tbsp soy sauce
½ lb wide rice noodles, prepared according to package
2 tbsp vegetable oil
1 egg, lightly beaten
Instructions
Peanut Sauce
In a bowl, combine all the ingredients. Set aside.Pad Thai
In a wok or large skillet over medium-high heat, soften the white parts of the onions, the garlic and ginger in the oil.
Add the peppers and cook until soft.Add the peanut sauce, egg and noodles. Cook for 3 minutes, stirring until the egg is set and the sauce coats the noodles.
Mix in the bean sprouts and shrimp, to heat the cooked shrimp. Remove from heat.
Top with the green parts of the onions and peanuts, if desired, and serve.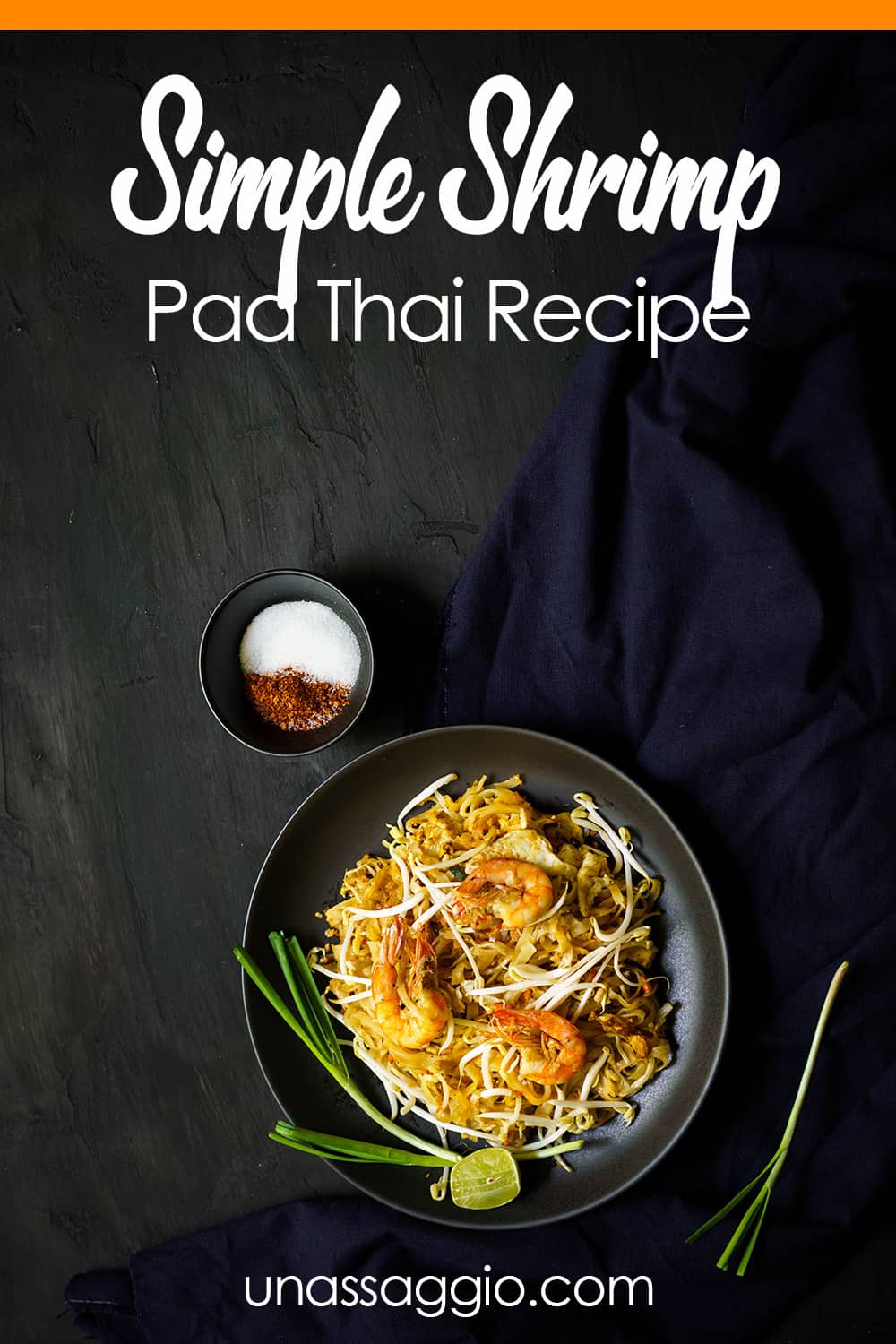 See more recipes on our site: