Cereals are considered to be an important part of breakfast especially for people who do not have the time to prepare a fulfilling breakfast to help them start the day and vegans must get nutritious meals that contain certain nutrients like calcium and vitamin D from fortified foods.
Many bowls of cereal are vegan however many of the cereal brands you love may not be vegan but there are lots of mouth-watering and nutritional plant-based cereals to keep you energized and active throughout the day.
Studies show that a vegan diet may help keep your heart healthy and also help increase your overall health and although you need to be careful when choosing your vegan diet but they need not be boring.
There are lots of ways vegan cereals can be fun and more nutritious, naturally for cereals to be healthy, they have to be low in sugar and if you wish to maintain your health, you must avoid sugar cereal at all costs.
Whether you are looking for a healthy cereal, There are plenty of options when it comes to vegan cereals but to ensure it is healthy, we have listed the top list of the vegan-friendly cereals you can eat often.
Where Can You Buy Vegan Cereals?
Vegan-friendly cereals are available in most stores like Target, Walmart, and the rest but you can order online as well, a trusted website to buy vegan cereals would be Amazon.com hence all the healthy cereal options mentioned in this article all have respective links to buy them directly from Amazon.
Transparency statement: We're an Amazon affiliate and may earn a commission at no extra cost to you if you buy from any of the links in this post. Read our full disclaimer.
Vegan-Friendly Cereals You Can Eat Often
Vegan-friendly cereals are recommended as a healthy meal to start the day with and with the addition of your favorite non-dairy milk, you can have a complete meal before going to work or school.
Many people choose cereals based on how they taste but keep in mind that not all cereals are vegan and most are high in sugar but not to worry, here are some of the best vegan-friendly cereals and will ensure you have a well-balanced breakfast.
1. Cascadian Farms Organic Purely O's
This is a cereal worth getting out of bed for nad if you love the simplicity of cheerio's then this is the cereal for you, it is made from whole grain oats and barley, contains no sweetener as well which makes it a healthy vegan option and you can sweeten them yourself with vegan-friendly sweeteners.
This contains no animal-derived ingredient and it is also very easy to make.
2. Kashi Go Peanut Butter Crunch Cereal
This is a vegan-friendly cereal with great tasting and it is a well-known cereal brand for the plant-based food industry, it is easy to make and it contains twice the size of protein and fiber found in other cereals.
The peanut butter crunch is an amazing cereal for vegans and it has 10 grams of sugar which is less than what can be found in other cereals and you might not need to add extra sweetener. Peanut butter crunch cereal is packed with essential nutrients such as protein, fiber, vitamin B, and antioxidants.
3. Grape Nuts, The Original Cereal
This cereal is made with just four vegan-friendly ingredients, which are whole grain wheat flour, malted barley flour, dried yeast, and flour which are fortified with minerals and vitamins.
Grape nuts cereal boasts of a healthy source of protein and a single serving provides 100% of your whole grain for the day and if you do not like soggy cereal, then this is the right choice to go for. It is formulated with no sweetener however if you want it with a sweeter taste, you can try mixing in fruit or your favorite protein shake.
4. Julian Bakery ProGranola Cereal
If you want a protein-rich breakfast that is vegan friendly as well, the Julian bakery pro granola cereal is suggested, it is free from artificial colorings or flavorings and as well as preservatives.
This cereal contains a great amount of fiber and this is one cereal every vegan should have, it is quite filling and makes a great breakfast to start the day with. A lot of ingredients used are organic except for the natural vanilla flavor and protein isolate however the granola is hard on the teeth but has a lot to offer nutrient-wise.
5. Reeses Puffs Breakfast Cereal
This cereal might come as a surprise as being vegan friendly as it is kale infused but it is accidentally vegan junk food and does meet the criteria of vegan comfort food with an amazing flavor.
This cereal is a blend of peanut butter and chocolate and they are totally balanced giving you a unique flavor. It can be great late-night food or breakfast.
6. Barbara's Cereal's, Peanut Butter Puffins
Here is a vegan cereal for all lovers of mini wheat, it features a combination of lightened sweetened corn and peanut butter without extra fat or too much sugar. This vegan-friendly cereal is wheat-free which makes it ideal for people with sensitivities and although they do contain oat hence you might reconsider if you can't do gluten.
7. Earnest Eats Superfood Hot Cereal With Quinoa
Thi cereal is made with superfood grain and this is a very distinct cereal as it contains no sugar but has a delicious but subtle cocoa flavor that is very addicting. This cereal has four different blends which are all tremendously healthy and tasty at the same time, this cereal is a bit pricey compare to other cereals but it is a superfood that is packed full of grains, fruits, nuts, and seeds.
8. Cap'n Crunch Cereal
Cap'n Crunch cereal is one of the highly-rated vegan cereals. It is a delicious sweetened corn and oats cereal that is just what you need to get your day started. It is affordable and very easy to prepare. This vegan cereal contains 7 essential vitamins and minerals. It is just the ideal breakfast cereal if you are on a low-fat diet.
9. Kellog's Frosted Mini Wheat
This is a great cereal that doubles as a breakfast cereal and snack. This is an irresistible cereal just for vegans but for everyone who enjoys a healthy cinnamon cereal. This delicious whole-grain cereal is made into mini woven biscuits that are satisfying and keep you going till the next meal.
10. Kashi Go Breakfast Cereal
Kashi is a popular cereal brand and there are different fruit cereals to pick from. Kashi breakfast cereals are highly nutritious with a burst of flavor you are sure to love.
This cereal is an excellent source of fiber and you can enjoy it with yogurt or fresh fruits. The crunchy puffed cereal is made of whole grain clusters and peanut butter.
FAQs
Are cheerios vegan 2021?
Cheerios are a common breakfast cereal but unfortunately, most cheerios are not vegan. Most cheerio brands claim it is vegan but the original Cheerios are fortified with vitamin D and this is derived from wool grease which isn't exactly vegan. However, there are great cereals that are suitable for a vegan diet.
Can you eat cereal on a plant-based diet?
Yes, cereals are part of a vegan breakfast plan so all you need is to add some plant-based milk to it. To keep your sugar intake low while consuming cereal, go for milk that is low in sugar such as soy milk or almond milk.
Is peanut butter vegan?
Peanut butter is mainly a mixture of ground peanuts and salt so they are definitely safe for a vegan diet. However, there is peanut butter that contains honey but this is in rare cases and you can have it made yourself to be sure.
Is all cereal vegan?
Not all cereals are vegan. Most cereals include animal-derived ingredients and these are not ideal to be consumed by vegans. Cereals for vegans should not contain any animal product in their ingredient list.
What to look for in a cereal?
To make sure your cereal is healthy, you need to look for whole cereal or wheat grain, this means the ingredients are typically whole grain or bran. Cereals with refined grains often contain sugar. Also, look for cereal with at least 3 grams of fiber.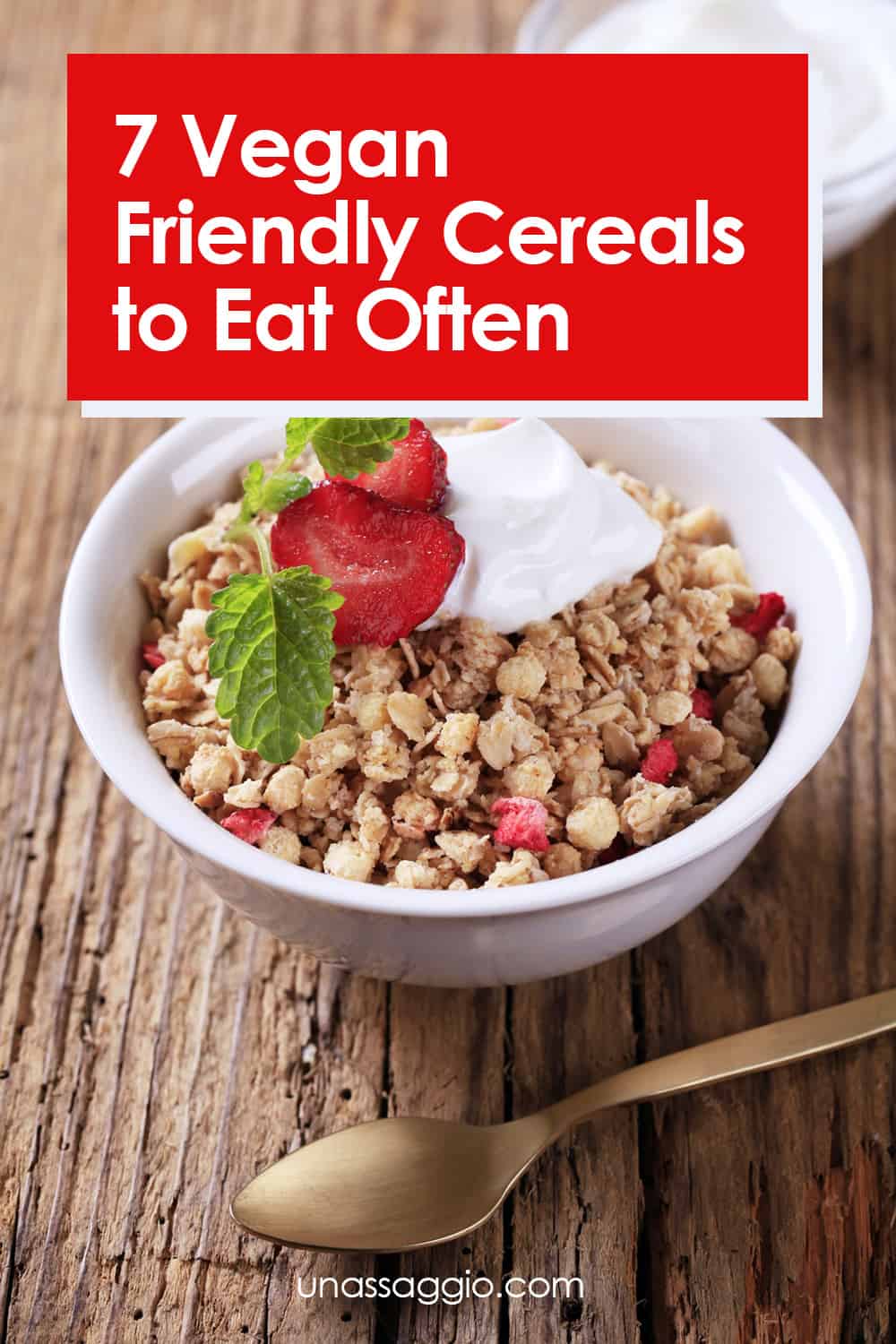 Conclusion
There are plenty of cereals to have for breakfast that does not contain any animal ingredient and while they are very healthy too, a lot of people might not be able to cope with the taste which is why there are lots of healthy choices to choose from however the key to choosing a vegan-friendly cereal is to find one that is healthier and tasty which means you might have to try out a lot of cereals to find out what the best option is for you and even easier, look for cereals that have vegan listed on them.
When it comes to serving, don't limit yourself to plain non-dairy kinds of milk rather try adding fresh fruits or spices to cold cereal for a more nutritious meal.
Read next: Can Vegans Eat Tortilla Chip?