Can you freeze leftover turkey? Yes! You can freeze your leftover turkey; this will help preserve it to be used for other recipes for a long time.
Having leftover food in your house, especially after a huge ceremony like thanksgiving, can pose a big problem for some people, and this is because many have no idea of preserving them. While tossing all away may be the first option on your mind, we will like you to stop and think of using the refrigerator.
Speaking of refrigerators, there is some food that we didn't know can last longer and be better preserved by freezing. One of such is turkey. Let's face it, it is almost certain now that every celebration we have, it is unlikely that you will finish the whole turkey there, instead of tossing it away, you might want to explore the option of freezing it.
Are we saying you can freeze your leftover turkey? Absolutely! Freezing your leftover turkey allows you to preserve and keep for as long as 4 months. It also allows you the option of saving your money whenever you need a turkey for a recipe.
How To Safely Freeze Leftover Turkey
Separate The Turkey From The Bones: You should toss your turkey into the refrigerator as soon as possible, this will determine how long it will last in the freezer. Separating the flesh from the bones also helps preserve it longer. You can shred it further into smaller pieces and then spread it into a parchment-lined baking sheet. 
Freeze The Cuts For An Hour: While still in the baking sheet, you should place it in the refrigerator for about an hour, you can call this flash freezing, this will prevent the turkey from joining together when you finally place them in the freezer. 
Move To A Plastic Bag: Since each shred of turkey can stand on its open, you should move them into a plastic bag and place them finally into the freezer. 
And you're done! It doesn't take so much time to get your turkey into the freezer for preservation.
If what you are worried about is what to cook with the leftover turkey. Will they still be useful? Of course, they will be useful to you; there are loads of recipes to try out with turkey. This will give you the avenue to try them out. Here are some of them;
Bacon turkey ranch sliders 
Turkey noodle soup 
Turkey noodle casserole
Bacon brie turkey grilled cheese.
Turkey Cranberry Cream Cheese Pinwheels
Turkey soup
Grilled turkey sandwich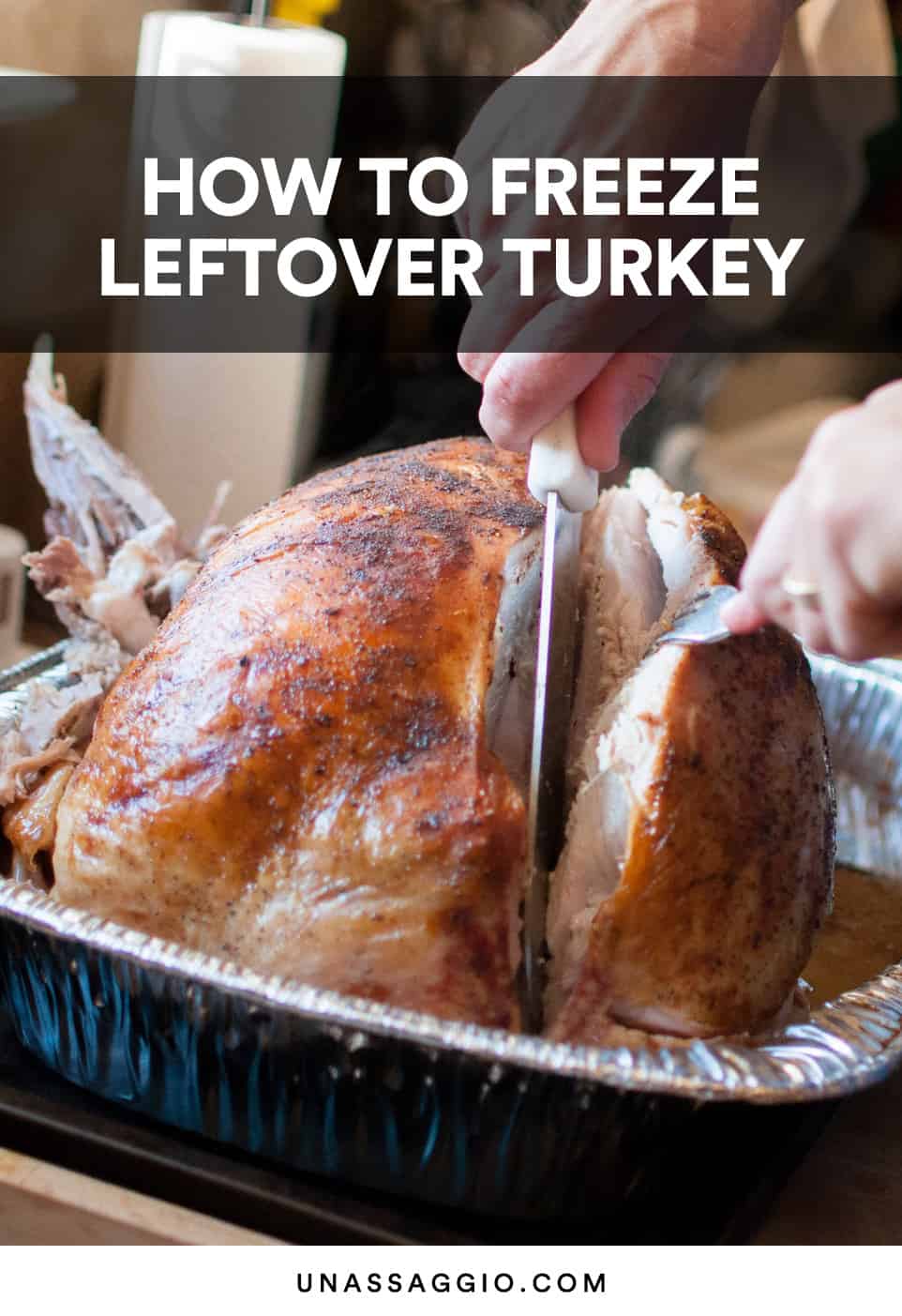 Freezing Leftover Turkey FAQ
Can you freeze leftover turkey pie?
Yes, you can freeze your leftover turkey pie, like turkey, you do not have to toss it away after your celebration, freezing it is one way to preserve it. You can also make it ahead and freeze it, however, you may need to pay attention to how to make it so it will last long in the freezer. When made and stored properly, it can last for about 2 to 3 months.
Can You Freeze Cooked Turkey Breast?
Yes! You can freeze cooked turkey breast, however, this is largely dependent on how properly the turkey breast is cooked. You can keep the turkey breast in the freezer for as long as 4 months.
Can You Freeze Leftover Turkey Casserole?
Yes, turkey casserole is one of the meals you can make with your leftover turkey. The good thing about it is that it can also be preserved in the refrigerator in case you also get leftovers from it.
Can You Freeze Turkey Slices?
Yes, you can freeze this, as long as they're cooked. Storing them in the freezer helps to preserve them for a long time.
Can You Freeze Leftover Stuffing?
Yes, regardless of where you make your stuffing, you can freeze the leftover.
Leftover Turkey Recipes To Freeze
While there are so many recipes to make from your leftover turkey, it's such a delight to know that you can also freeze them when there are leftovers of them too. The following are some leftover turkey recipes;
Turkey pot pie
Turkey casserole
Turkey Cranberry Cream Cheese Pinwheels
Turkey soup
Turkey noodle soup
Grilled turkey sandwich
Turkey and rivel soup.
These and many more are leftover turkey recipes that you can freeze
Can I Freeze Cooked Turkey That Was Previously Frozen? 
Yes, you can do this. You should only note to return it to the freezer once it cools down. If your previously frozen cooked turkey is left outside the freezer for too long I.e. Days, then it cannot back into the freezer.
How Long Can You Freeze Cooked Turkey Breast? 
It can last 3 to 4 days If it is simply placed inside the refrigerator without a bag. However, once it is in a plastic bag, it can be frozen for 3 to 4 months.
Final Thought 
Freezing your turkey is an amazing way to preserve it. We are aware that there is a saying that cooked meat shouldn't be frozen, we are glad to tell you that it is untrue. You can get keep your turkey for a long while after the first time it was made. This also applies to chicken.