An air fryer is essentially designed to stimulate deep frying and bake food at a high temperature using a high powered fan and this has been a popular kitchen appliance due to it being a healthy alternative to deep-fried foods.
Are air fryers healthy? It is used to make foods such as meat, pastries, and potato chips which is healthy compare to deep frying and if you are planning on replacing your oven with an air fryer, you need the best online shops to make sure you are getting an air fryer in perfect condition.
Makers of air fryers advertise this appliance as a healthy option for making fried foods as you don't have to deal with the adverse effect of oil-fried foods. Air fried foods have a lower fat content compared to deep-fried foods, this can make you decide on getting an air fryer.
Should you get a used air fryer? Yes, you can definitely get a used air fryer from any of your relatives who has air fryers they are willing to sell and you can also get from, online stores. This article contains a list of places to buy used air fryers from online.
Factors To Consider Before Buying Used Air Fryers
Well, we can buy used fryers online but we need to check the information that is given about the quality and properly. You also need to check how long the air fryer has been used. Before you commit to buying an air fryer of any kind online either used or new, here are factors to consider.
Size: This is an important factor to consider for every household before purchasing an air fryer, ensure your air fryer has adequate space to store the air fryer when cooking.
Settings: The performance of the fryer depends on the settings hence you should look out for temperature settings, mode settings, and other settings. The setting is very important as an air fryer without temperature control settings will be of no use because some dishes require different temperature settings.
Wattage: You need to make sure your kitchen outlet supports the watts consumption your air fryer will use. Your kitchen outlet should be able to support 800 to 1500 watts which is what a standard air fryer usually uses.
Cost: Lastly, before making your final purchase decision, you need to weigh the cost and budget. Air fryers definitely are a bit pricey but a used air fryer will be lower than the new one. Make sure that the brand you choose is well known and has a reputation in the market.
Where to Buy Used Air Fryer Online
An air fryer is a must-have these days and the results of using an air fryer are much better than oven frying.
There is no need to dodge those fries anymore when you can simply have your air fryer make them and below are online shops that sell used air fryer in case you are on a budget. 
1. Amazon Should Be The First Place To Check
Prices pulled from the Amazon Product Advertising API on:
Product prices and availability are accurate as of the date/time indicated and are subject to change. Any price and availability information displayed on [relevant Amazon Site(s), as applicable] at the time of purchase will apply to the purchase of this product.
The first place you should definitely look for a used air fryer is Amazon and this is because when you buy used products from Amazon, you essentially have no risk. You are guaranteed to get what it says it will do and if this is not the case, you can have it returned at no charge. 
Amazon offers a wide selection of used air fryers for you to choose from. This is an online store that is as old as online shopping itself and you are definitely going to find an air fryer that suits your budget. 
2. If It's Not On Amazon, You Are Sure Going To Find It On eBay
Another online shopping site to check for used air fryers is eBay. This is a world online marketplace for anything you want and you can be assured of getting the right quality of used air fryer you want. 
3. Browse Gumtree.co.za If You're Looking For Used Air Fryers In South Africa
You can always find great deals on used air fryers from this online shop. This is a classified online site created to help you find new and used gadgets. There offer a large selection of deep fryers for you to choose from either used or new. 
4. Shop Walmart For Quality And Cheap Air Fryers
There are lot's of disadvantages to buying the wrong air fryer and you might want to avoid that as much as possible then the best online shop to consider is Walmart. You are likely not to find a used air fryer at Walmart but be rest assured, this online shop offers you quality at a really affordable price. There are lots of air fryers that are regarded as convenient and healthier fryer compared to a regular fryer and you can easily find it at Walmart.
5. Check OLX If It's Available In Your Country
OLX although is not available in most counties, regions like Lebanon have OLX available and people put most of the used items like the kitchen appliance you're looking for on the website, check it out.
6. Offerup Is A Great Place to Look
Alongside other huge classified ads sites like Craiglist, and even better now, Offerup just got bigger as a result of merging with Letgo that is also another huge classified ads website in the U.S, Here's a list of all of the used air fryers up for sale on Offerup right now but be careful and apply the type of caution
Should You Get A Used Air Fryer?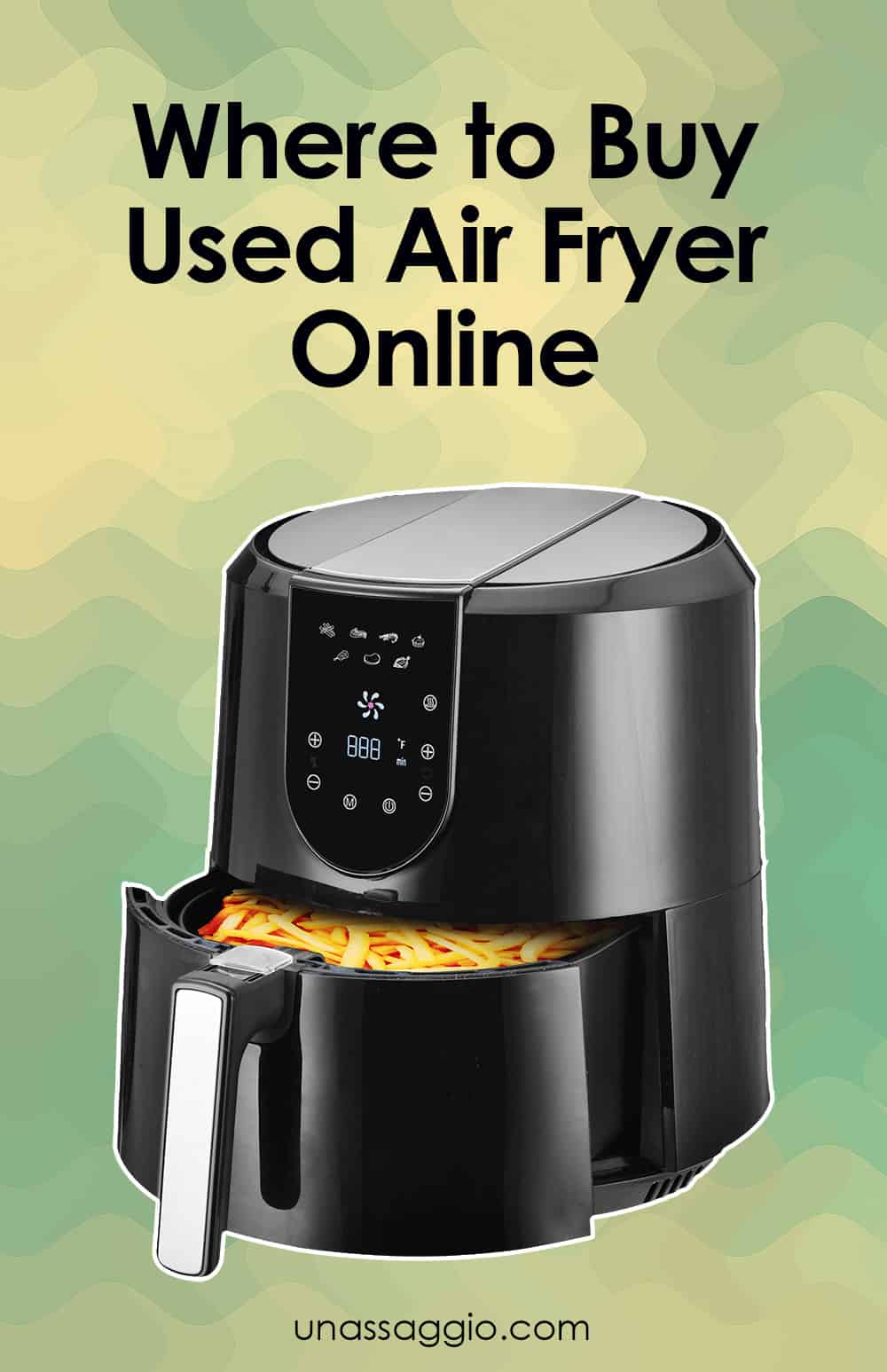 Yes, you should definitely go ahead and get a used air fryer if you are on a budget or needs some backup for your oven. Although there are merits ad demerits of getting a used air fryer, however, if you take your time to carefully select a seller before making a purchase and also ensure to analyze the quality, the maintenance, and how it is used previously then you can safely buy a used air fryer. 
Conclusion
The results of using an air fryer are much better than oven frying and your kitchen stays cool with no heat from deep frying to disrupt it. It is important to buy a used air fryer that has been well maintained which is why we have listed the best places to shop for used air fryers.
Be sure to check how long the air fryer has been used and although purchasing a used air fryer has its advantages and disadvantages.