Portable ovens have become popular for lots of reasons and one of these is the fact that they do not take up much space in your kitchen. Functions are essential when getting a portable oven, however, if you are getting a used portable oven, it is better to get them from a brand you can trust.
Ovens are an expensive investment and when it breaks down, it is hard to know where to start, and buying a new one straight might not be possible.
A portable oven is worth having in every kitchen, it is small and lightweight, making it easy to move from one place to the other. They offer a simple user interface compared to a regular oven however if you can't afford a new portable oven, a variety of used portable ovens are available online and all you need is the best shopping site for it.
When exploring possible options for a used oven online, there are simple tips that will come in handy in ensuring you are buying quality. There are lots of buyers online willing to sell second-hand appliances however not all can be relied on. Read on for tips on buying a used portable oven and where to buy them online.
Tips For Buying A Used Portable Oven
There are factors to consider when buying a new appliance and the same also applies to when buying a second-hand appliance. Portable ovens are cheaper to run than microwave ovens but only when you get one that has been used well and to get the best used portable ovens so check out our handy tips to help you choose the right one.
Look at the brand: The brand you are buying is very important. Some brands are considered to be better than others. When looking for a second-hand oven, it is best to go with a brand you know, and before buying, ensure to do some research into the reliability of the brand you are buying. What are their customers saying about them?
Features: The second most important factor is features, with technology constantly changing, the features of the oven are worth checking. It is unlikely you will get your money back if the oven doesn't do what it is expected to do so check the features out to know what its capability is.
Shop around: Don't just settle for the first used portable oven you see. It is best to have a look around at what you can get for your money, doing this will help you secure the best portable oven at the best price available.
Buying online means there might be no chance to inspect it closely before buying hence you need to purchase these portable ovens from verified sites and ensure to ask the buyer how long it has been used.
Where to Buy Used Portable Oven Online
Should I buy a used portable oven online? An oven is an expensive kitchen appliance and one of the ways you can save money with this essential kitchen tool is by purchasing second-hand. This can save a significant amount of money and with the right tips, you can get a long-lasting one.
If you are on a budget then here are the best online places to buy a used portable oven.
1. Amazon Is The First Online Marketplace To Check For Used Oven
Prices pulled from the Amazon Product Advertising API on:
Product prices and availability are accurate as of the date/time indicated and are subject to change. Any price and availability information displayed on [relevant Amazon Site(s), as applicable] at the time of purchase will apply to the purchase of this product.
Amazon is an online marketplace that is committed to providing its customer with the highest standard of customer service and this basically applies to any product you are buying from them. The options of the used portable oven on Amazon are unlimited, making it easy to choose the one that best suits your kitchen.
When you buy used appliances from Amazon, you essentially have no risk and this is because you are guaranteed to get what it says it will do and if it does not happen, you can have it returned at no charge.
2. If It's Not On Amazon, Then The Next Place To Shop Is eBay
Let's face it, eBay is the best online shop to go to any time you are looking for something you can't find anywhere else and this also means used a portable oven. You are sure to find one within your budget there.
You can also find different brands of a new portable oven at an affordable price and a wide selection of used ovens are also available at a convenient price.
3. Another Major Online Place To Check Is Overstock.com
Overstock is fast becoming a major online retailer that offers new appliances at a very affordable price so when you can't find any used portable oven, you can always check out the price for their new ones. There are guarantees on all their refurbished items.
4. Walmart Is The Best Place To Bargain For Used Items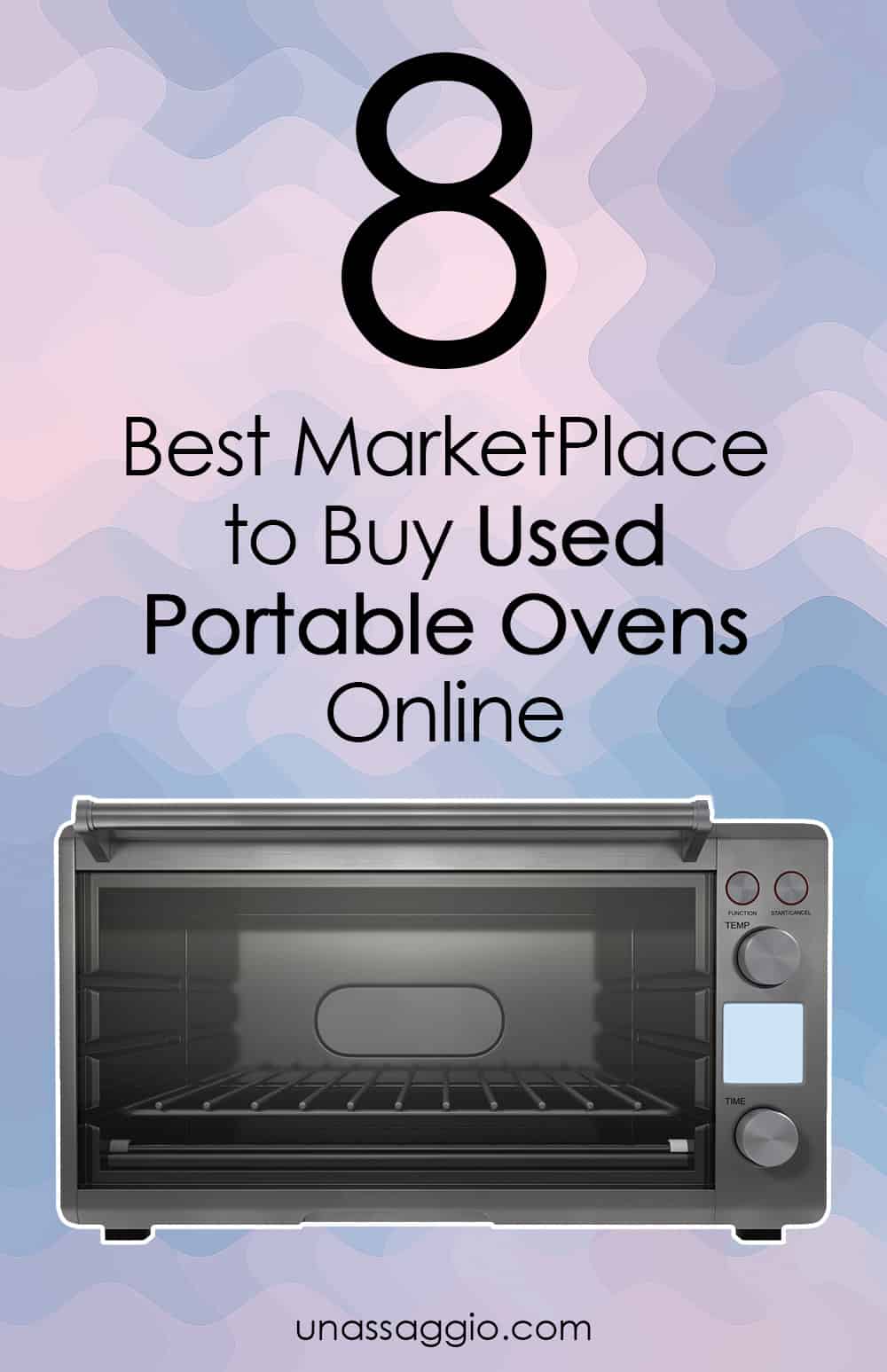 Walmart is a well-known online store to bargains for all kinds of goods, from household items to furniture and toys. You will definitely be saving money if you are buying your used portable oven from Walmart.
Walmart does not allow all refurbished items to be sold hence it might be a bit tacky finding varieties of the used portable oven there to select from but professional sellers who offer top quality can be found on it and you can let them know what you want.
5. Offerup Is Worth Checking Out
This is an online marketplace worth checking out for used and new appliances. One of the benefits of using offer up is the fact that listings are made nationwide as its popular classified ads site like Craigslist and it just got bigger with its merger with Letgo.
Offerup enables you to get access to all fairly used portable ovens for sale around you.
6. Check Bonanza For A Range Of Products Similar To Amazon
Prices pulled from the Amazon Product Advertising API on:
Product prices and availability are accurate as of the date/time indicated and are subject to change. Any price and availability information displayed on [relevant Amazon Site(s), as applicable] at the time of purchase will apply to the purchase of this product.
Bonanza might be the perfect place for you if you want to save costs with shipping. This online shop sells a range of products similar to Amazon and eBay hence you are sure to find a used portable oven there.
This online marketplace is considered safe and legit however we implore you to make research on the buyer and brand before buying. Check the reviews to know what its customers are saying as well.
Wrapping Up
The portable oven has basically be evaluated based on its design and quality and many people find it more suitable than a regular oven. You can easily have a portable oven moved from one place to the other with ease. When buying a used portable oven, keep in mind the handy tips we have listed in this article to enable you to choose a quality oven.