If you want an authentic restaurant-sized pizza then the appliance used in making it should be a priority.
Many toaster ovens come with settings that allow them to be used in cooking and baking of anything however if this is not the case then you need to be aware of what it can bake and how it functions before using it. Not all toaster oven has the same features but is just as efficient as a regular oven.
Toaster ovens and convection ovens both heat food evenly without making them soggy and it is considered more energy-efficient than a regular oven. If you are planning on using a toaster oven to bake, one of the advantages is that it preheats quickly much faster than your regular oven and this will speed up cooking time.
It doesn't take long to heat pizza but the kind of appliance being used is important. Many toaster ovens will let you toast, cook, and even bake at any time which makes it an ideal multipurpose appliance for all kinds of kitchens. If one of your favorite reason for getting a toaster is for quick pizzas, here are things you should know to make cooking pizza in a toaster oven easier.
Can You Cook Pizza In A Toaster Oven?
Prices pulled from the Amazon Product Advertising API on:
Product prices and availability are accurate as of the date/time indicated and are subject to change. Any price and availability information displayed on [relevant Amazon Site(s), as applicable] at the time of purchase will apply to the purchase of this product.
Yes, you can definitely cook a pizza in a toaster oven and this is because a toaster oven works basically the same way as a regular oven. Making pizza with a toaster oven will speed up your cooking time however a convection toaster oven is more effective. A convection toaster oven works by means of a fan that circulates hot air around the oven thereby cooking your pizza quickly and evenly.
Several toaster ovens come with two settings which are bake and convection. When baking a pizza or just reheating pizza slices, you can choose whether you want to use bake or convection.
A toaster oven is also energy efficient and cooks your pizza in about half the time it takes to preheat a regular oven.
How Do You Cook Pizza In A Toaster Oven?
Not all toaster ovens come with the same settings and features. If you are short on time, you can easily reheat your pizza in your toaster oven and if you are also thinking of using it to cook your pizza, here are four simple steps to follow.
Step 1: Preheat your toaster oven to 400 degrees Fahrenheit using the toaster baking or convection settings. Make sure your baking pan is in the oven preheating
Step 2: Put the pizza or pizza slices onto the rack inside the toaster oven (be careful it's hot) and close the door
Step 3: Bake the pizza for about 5 to 10 minutes. Cooking pizza in the convection setting may take less time hence watch the pizza closely. Take it out when the crust is brownish and the cheese is bubbling
Step 4: Pull out your pizza or slice from the oven and let it cool for a few minutes before eating.
Which oven setting is best for pizza?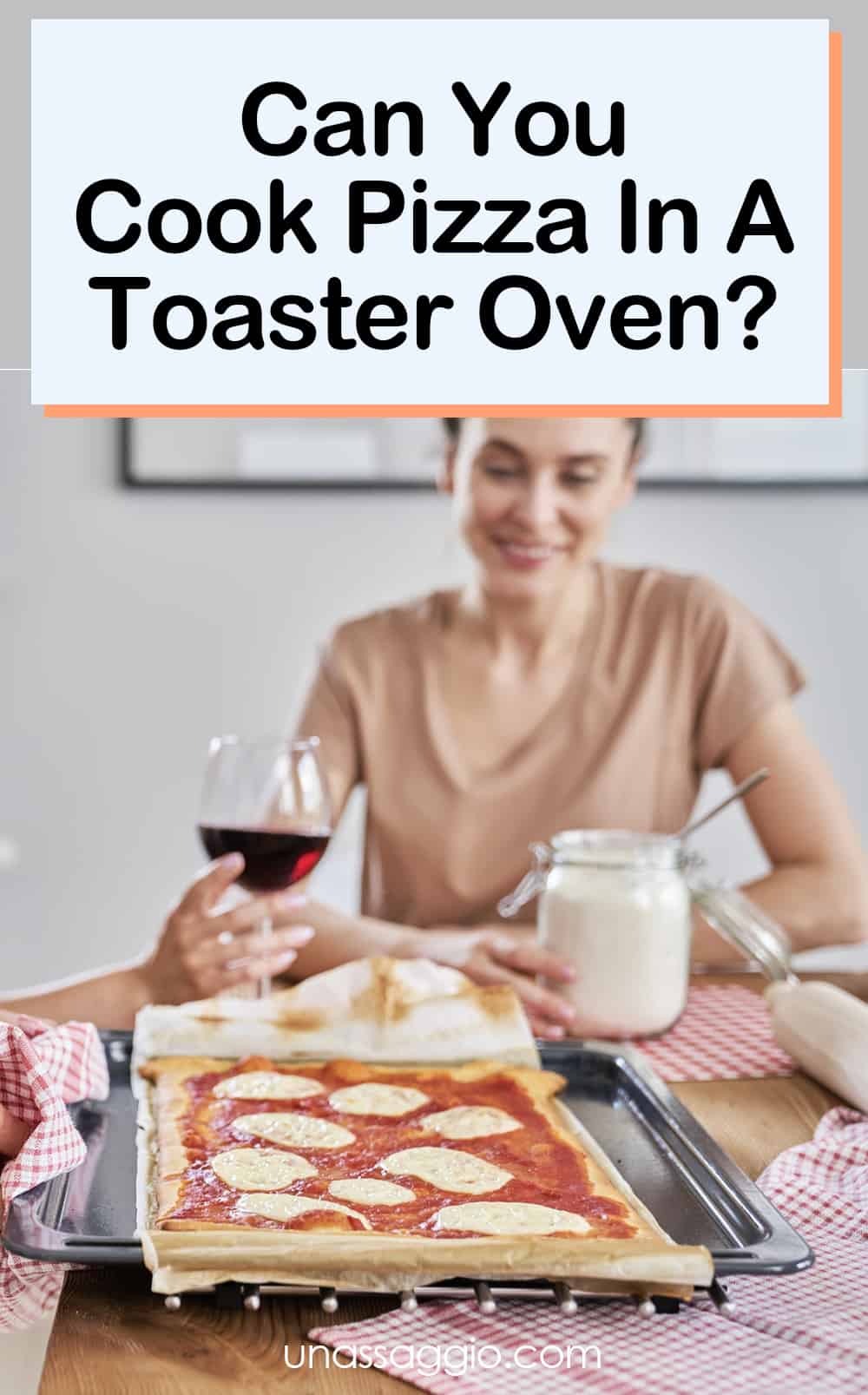 The temperature setting of your oven is important if you want to get a professional-looking pizza. Use bake mode for standard pizza but avoid fan bake if possible. To preheat your oven, set it to 200c to preheat your oven.
For a crispier bottom on a single pizza, you should make use of convection bake mode. Use the bottom rack for cooking pizza even if the baking stone is not used, you can slide it directly onto the tray and bake till the desired texture is achieved.
Conclusion
Most things that can be baked will work in a toaster oven as long as it can fit into your toaster oven. A toaster oven has lots of unique advantages and can cook your pizza just like a regular oven would.
Most toaster ovens come with convection and a baking setting, both settings will work in making your pizza hot however a convection setting may be too much for the easy task of reheating your pizza but if you are baking a pizza then it will definitely come in handy.
Read next: Where to Buy Used Air Fryers Online