Your toaster oven can reheat varieties of leftovers quickly and evenly compared to regular ovens and while a toaster oven might be worth it for those who cook a lot, it is important to know how it functions. Toaster ovens can tackle sausages and meats well but if you are wondering if your toaster oven can cook bacon or what is the best way to cook bacon?  
Lots of dishes can be made in a toaster oven, it is a sensible alternative to some regular ovens. A quality toaster oven can definitely make life easy for those who cook and bake a lot and it can be particularly effective in cooking frozen meals.
If you have been baking bacon the wrong way then it might be time to learn a new way to make it with your toaster oven.
Making perfect bacon is easier than you think, there are a couple of pro tips you will need nonetheless. Before digging out your frying pan to make your bacon, you should consider the toaster oven sitting on your counter. 
Can I Cook Bacon In A Toaster Oven?
Prices pulled from the Amazon Product Advertising API on:
Product prices and availability are accurate as of the date/time indicated and are subject to change. Any price and availability information displayed on [relevant Amazon Site(s), as applicable] at the time of purchase will apply to the purchase of this product.
Yes, you absolutely can cook bacon in a toaster oven and this is worth trying out.
Making bacon in toaster ovens is the best way to get perfectly crispy bacon every time minus the stress. Everybody loves bacon and each piece of your bacon can turn out tastier with the right method of preparations. The process of making bacon in a toaster oven is pretty straightforward and this is another great thing you can do with your toaster oven.`
Tips For Perfect Bacon In A Toaster Oven
The flavor of bacon from a toaster oven definitely makes all the effort worth it and clean-up is a breeze when cooking bacon with a toaster oven.  Here are a couple of pro tips to follow to get perfectly crispy bacon.
The oven should be cold when you put the bacon in. Do not preheat the toaster oven, instead turn your oven on and put the bacon in right away. This way allows the fats to b rendered properly without burning.
Using a baking rack allows the bacon to be baked evenly from all sides and comes out crispy and with less grease and you don't need to turn the bacon. However, without a baking rack, turn the bacon once.
Leave some space between the strips, don't overcrowd the pan
If you plan to prep bacon in advance or want to freeze your bacon? Undercook it for a couple of minutes. Let it cool and then place it in a Ziplock bag and you can have it reheated easily in a microwave
Ensure to go for bacon that is a bit more expensive and thick. If your grocery store has a butcher, we suggest getting it from them. 
How long do I cook bacon in a toaster oven?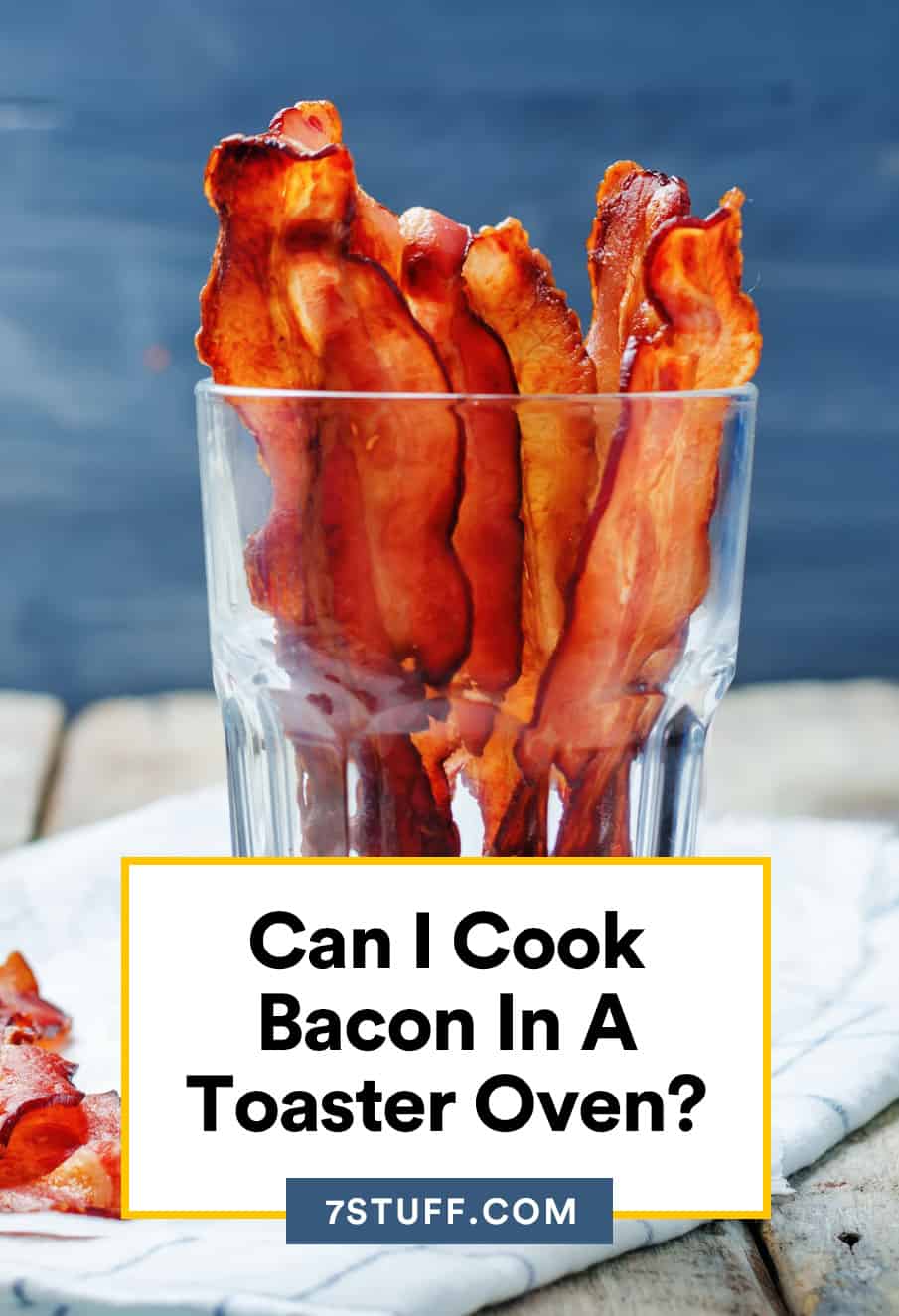 12-17 minutes is how long it might take to have your bacon cooked in a toaster oven or until it is done to your liking. When the bacon is golden brown then the bacon is done and you can remove it immediately, place it on paper towels to soak up the bacon grease. Eat and enjoy.
Conclusion 
Everybody loves bacon, right? One way to get your desired crispy perfect bacon is to try toaster oven bacon.
While many people might enjoy cooking bacon on the stovetop or in the microwave, bacon tends to come out crispy in a toaster oven which makes them the ideal choice if you like crispy flavourful bacon. There is often less mess and the bacon with be just as delicious.