If you have ever had to choose the right paint color for your room/apartment, then you will agree with us that it can be a stressful yet interesting task to do.
Especially if you are not familiar with the different types of paint there are and the one that best suits each room/section in an apartment. What many don't know is that the types of paint you choose are as important as the color and can have a great influence on the mood of the room.
Over many years of using paints in homes, many designers have limited the use of some paints to a particular section of the house, however, in recent times, designers are beginning to see the possibilities of having these paints in other places. One such paint is the high gloss paint. 
What are high gloss paints?
The simplest way to define high gloss paint is that it is known to be super shiny. It identifies how much light reflects from the surface of the paint. It makes the paint look like a mirror.
The high gloss paint is usually used on interior doors, exterior doors, high traffic areas, etc. this is probably because high gloss paint has a dramatic look.
However, we have, in recent times seen house owners make use of high gloss paints in places they wouldn't have considered before now e.g. the living room, dining room, ceiling, bedroom, kitchen, etc. even at that, the right tool is still essential and the best of a house painter. high gloss paint can be used to add details to your room.   
How high gloss paints became a thing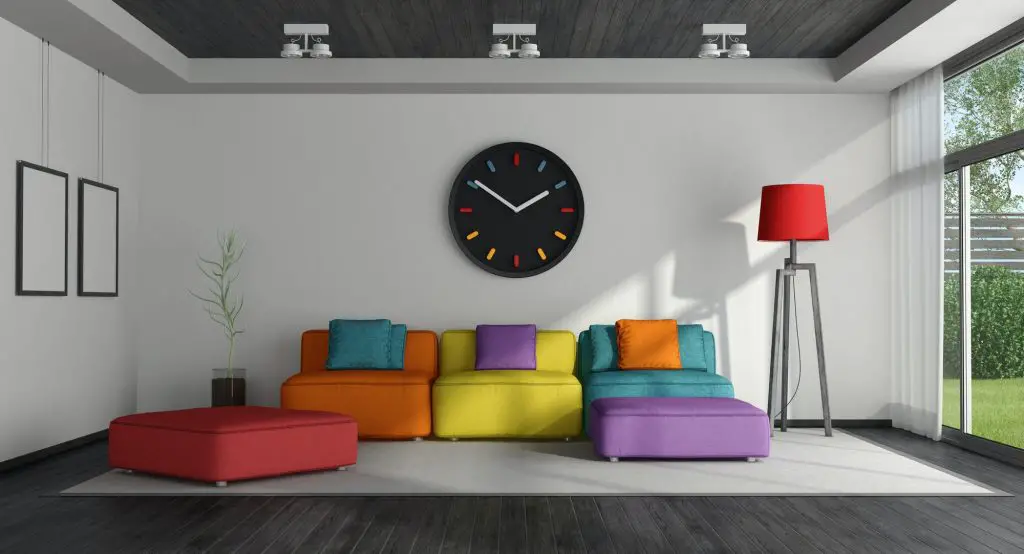 Paint itself was one of the earliest inventions of man. They were made with egg yolks, hence, they stuck to the surface it was applied. the use of painting evolved from then to the point where some sort of paint was made by treating lead with wine or vinegar in places like Greeks, romans, and ancient Egypt.
Paint from then continued to grow and in 1718, Marshall Smith invented "the machine of grinding colors" and it went on to the mid-18th century. Painting greatly increased until the 19th century for both decorative reasons and because the paints prevented the houses from getting rotten.
Paint has since evolved, into what it is today and has been very beneficial to humans.  
We bet that you have other questions to ask on the use of high gloss paints. You do? Great, you will find all the answers you have regarding the use of high gloss paint in this article. Read on!
What makes high gloss paint glossy?
Paint most importantly contains pigment and binders. The pigment is what determines the color of your paint. It is typically a metal ground-up type with some color characteristics.
The pigment requires a binder, since it isn't liquid and won't stick to a surface. Binder holds it all together and makes it even.  For high gloss paint, the amount of binder is usually more than the amount of pigment in it. a reduction in the number of pigment particles and a higher volume of binder gives you the smooth, evenly, mirror-like surface, which is the high gloss paint.
Does high gloss paint lose its shine?
High gloss paint makes it very easy to remove and clean of stains. The glossier and shine the paint is, the easier it is to remove stains without it losing its shine.
How long does high gloss paint last?
High gloss is very durable, in fact, the most durable of all. It is also the easiest to clean all the paint sheen. Because of its durability, it is recommended to be in high traffic areas like kitchen, bathroom, children's room, etc. also, about how long it lasts on the shelve because high gloss paint is latex, it is said to last up to 2 – 10 years if still sealed.
However, if you have opened it, it is important to keep it tightly locked or it won't last a year. It is important to note that your paint is normal if you open your paint and find liquid on the top and solid below. Normally, your paint will separate over time.
Is high gloss paint better than satin paint?
The satin paint has some sheen to it, not as shiny as gloss paint, but you can be certain you will get a medium gloss. The satin paint is less reflective. Satin paint is good for hiding imperfections. The high gloss paint, in terms of sheen, is your best choice, high gloss paint looks great on doors, walls, and high traffic areas. The high gloss paint is highly reflective.
The high shine of the high gloss paint gives you the professional look. The high gloss paint is the most durable and easiest to clean. However, some people may consider the high gloss paint as too shiny.
Both paint types are great, if you will not mind the reflection of light from the high gloss paint, then you can opt for the satin paint. However, if you do not mind, you can make use of the high gloss paint.
Is high gloss paint waterproof?
Yes, the high gloss paint is waterproof, although it shows fingerprints, the paint doesn't retain dirt and oils like less glossy paints. This is why you can clean the high gloss painted wall and get the stains out. This has made the high gloss paint a great choice for high traffic areas in the house, doors, trim, etc.
How to paint with high gloss paint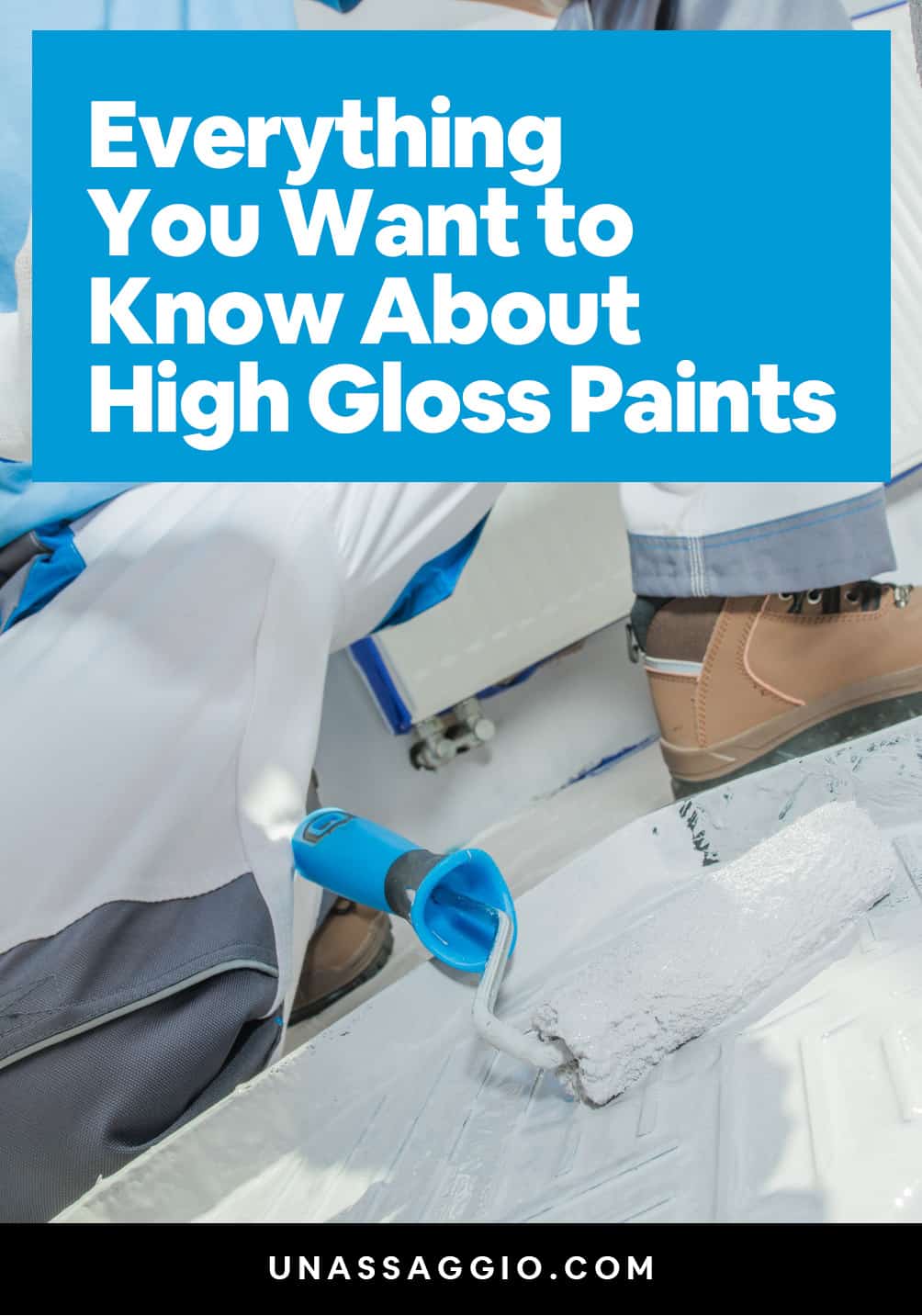 High gloss paints are your best bet if you are looking for a durable surface. The only thing you need to note is to properly apply it to the surface. It also allows more light reflection in the room.
The disadvantage of using the high gloss paint is that if not properly applied, your mistakes will be obvious. This doesn't mean you cannot do it yourself, you just need to be very careful and be patient with it.  here is a step to make your painting beautiful, just the way you want it.
1. Preparation
Before you begin to paint, you need to prepare your surface carefully. Take off any loose paint, wallpaper, and sand down rough spots on the surface, with sandpaper. Fill up the holes you may find with the right fill; wood filler, drywall compound, etc.
2. Pick the right applicator
When you want to paint with high gloss paints, make sure to use the best applicator available. A synthetic roller is best; you can also make use of foam rollers.
The synthetic and foam rollers do not leave marks of brushes and can fit into tighter spaces than the regular rollers. It is not always best to paint the high gloss with brushes, however, if you are required to make use of brush, you can select brushes with synthetic bristles. 
3. Primer
When you are working with high gloss paints, it is very important to make use of a primer. Choosing a primer can be confusing, this is why many people leave it out of the items. Priers bond the surface and the new paint together. Remember to get an oil-based primer. Apply the primer according to the manufacturer's direction.
4. Thin coats
Thin coats are also very important. Make use of an applicator that you want, and apply a thin coat of paint to the surface. Allow the first coat to dry before putting the second one. This is usually between 24- 36 hours.
What is the difference between high gloss and semi-gloss paint?
Semi-gloss paints are less glossy in their appearance and are less reflective. They are easy to clean and are stain-resistant. Semi-gloss paint can be used for windows, trims, cabinets, doors, etc.
High gloss paints on the other hand are highly reflective. They are the most durable, and the toughest. They are the easiest to clean, hence most homeowners use them for doors, kitchen, children's rooms, etc.
Where to buy high gloss paints
You'll typically find high gloss paints at local supply stores near you, online retailers also have these kinds of pains in stock and you can purchase them right from your home or anywhere really and have them delivered to you like you do regular shopping.
Wrapping up
High gloss paints are very good. If you have been looking for a suggestion on the type of paint to use for your home that will be long-lasting, then you may need to check out the high gloss paint.
The high gloss paint may be quick to expose errors or mistakes, or imperfections on your wall. This is why you may need to contact a professional for the best result.